<< Back to Main Local Interest page
St. Joseph's Presentation College Lucan Celebrates the 50th Anniversary of the First Leaving Certificate Class in the School in 1961

A reunion with a difference this event was celebrating the 50th anniversary of the first Leaving Cert ever sat in Lucan – back in 1961.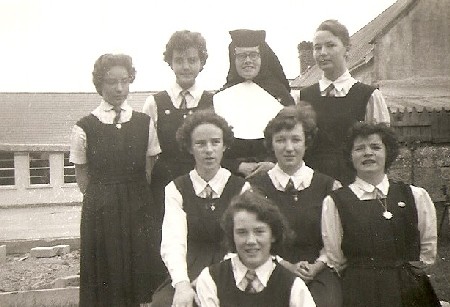 The class numbered just 7 students – pictured back L-R: Mary Moffett, Rosaleen Harford and Annette Sweeney. Mid: Sylvia Behan, Marcella Muldowney, Frances Crowe, and in front Bernadette Kilgannon, along with Sr. Oliver.

5 of these past pupils were present in Finnstown House Hotel on Sunday last, and indeed, its younger they're all getting.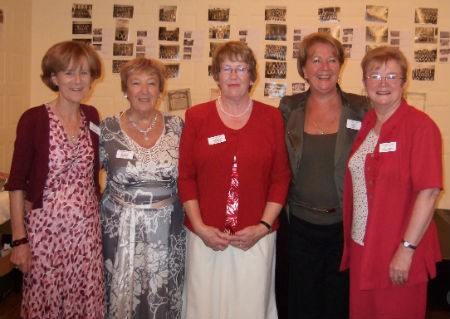 Fifty years on, the girls are from L-R: Sylvia Behan, Marcella Muldowney (Fields), Bernadette Kilgannon (Ui Dhúill), Annette Sweeney (Samuels-Brusse) and Sr. Frances Crowe. Rosaleen Harford was unable to attend, and sadly, Mary Moffett (Keaveney) passed away in 2002.

Photos and memories were shared over the evening, acquaintances renewed after many years. Some of the teachers were also present – Srs. Ita, John Bosco (Kathleen), Rosario, Patrick (Julia), and Oliver (Susan), and another teacher from the early days, Mrs. Ena Griffin.

It didn't go unnoticed that Sr. John Bosco was keeping one eye on the telly for Tipp!!! Her disappointment was short lived as she cheered up quickly with some of her old pals.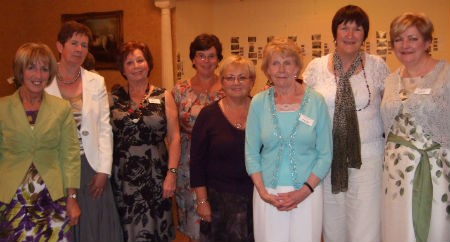 The Class of '65
L-R: Joan Farrell (Carolan), Elizabeth Murphy (O'Riordan), Anne Moffett (Geraghty), Mary Ardenburgh (Cronin), Mary Gordon (Moran), Mary O'Brien (Lysaght), Evelyn Curran (Nolan), and Pat Higgins (Lysaght) from the class of '66 – a bit younger than the others!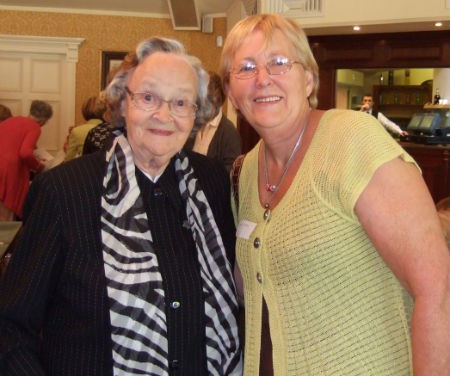 The "Two Itas" were also there – Sr. Ita and Ita Gleeson (Anderson)!

Below: Carol Dignam (Waldron), Marina Freeman, Mary Downes and Patricia Dignam (Kavanagh) enjoyed the evening.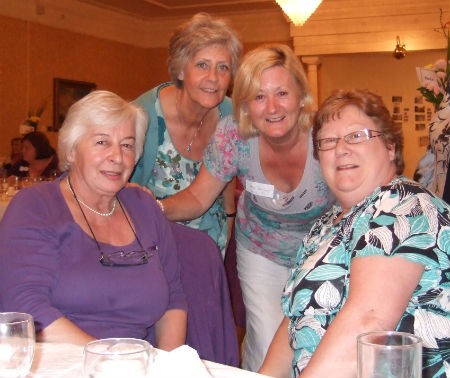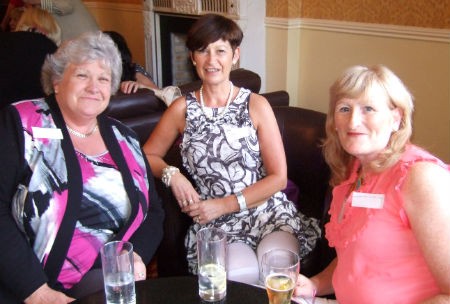 Nora Finn (Hayden), Gay Curtis (Kavanagh) and Barbara Gleeson (Cummins) shared quite a few stories from days gone by.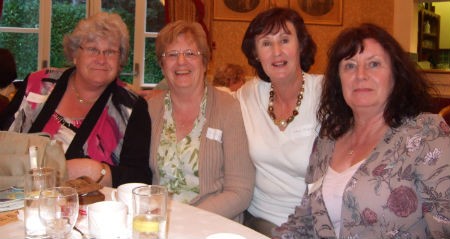 From the Class of '69 Nora Finn (Hayden), Mary Nolan (Mulhall), Eileen Murphy and Sheila Crean rediscovered each other!

(Sorry I did't manage to get all married names!)

Congratulations to the organisers – Anne Geraghty, Mary Moran and Pat Lysaght on a job well done!

The attendance covered past pupils from much further back than 50 years ago – to more recent times. Everything was just perfect, from the presentations to the beautiful meal provided on the day. Some of us plan to back in 50 years time!!!!

Mary Mulhall
St. Joseph's College 50th Reunion
On behalf of the 1961 Leaving Cert Students and all who attended this Reunion, I would like to express our deep appreciation to Anne Geraghty and her team for all the hard work and attention to detail that went into the celebration. A wonderful time was had by all including 5 of the very young and active sisters who taught us.

Again, our thanks,
Bernadette Ui Dhuill.
Some other memories……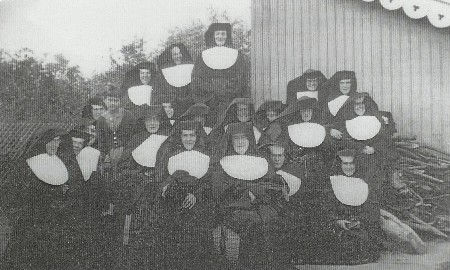 The sisters who taught us were: Sr. Rosario, Sr. John Bosco, Sr. Ita, Sr. Patrick (Patricia), Sr. Oliver (Susan) and Sister Mary, and those who are no longer with us: Sr. Joseph, Sr. Conception, Sr. Columba, Sr. Michael, Sisters Catherine and Theresa (who were also sisters in secular life), Sr. Martina, Sr. Bernadette, Mother Clare, Mother de Sales and Mother Philomena (Magdalen).

Inter Cert 1961
While delving in our Newsletter Archives we also found this picture of the 1961 Inter Cert Class.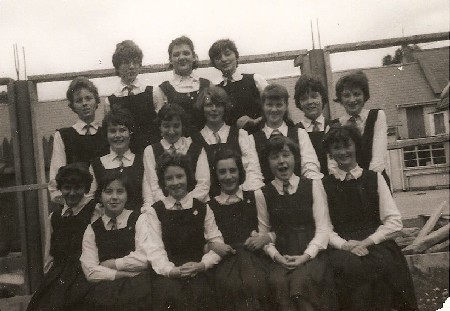 Front L-R: Carmel Curley, Graziella Pinamonte, Patricia O'Brien, Mary Rafter, Olive Faughnan, Miriam Poynton.
Mid L-R: Clare Kelly, Rita Kelly, Barbara Deane, Maura McNamara, Mary T. Conway, Breda Speight.
Back L-R: Mary Martin, Celine Downes, Gay McKenna, Breda Casey

Graziella Pinamonte was Italian, the daughter of the Gardener at Lucan House and was probably the first and only non-national in the school for quite a long time!

Names - As you can see, one names is missing – if anyone can help, please contact Mary@lucannewsletter.ie

The class pictures are from Sr. Susan's collection of photographs dating from the 1950s to the early 1970s, featuring her own 4th Classes, and Inter and Leaving Certificate Classes. She donated her album to Lucan Newsletter some years ago, God bless her.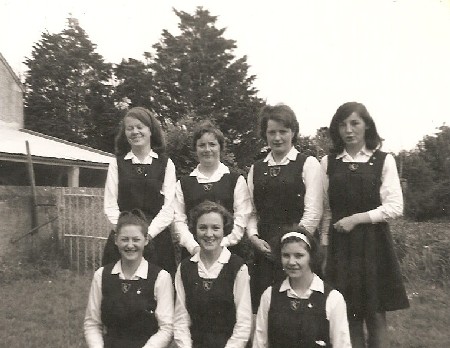 Leaving Cert 1966
Front L-R: Janet Dawson, Ann Brennan, Patricia Higgins.
Back L-R: Yvonne Sweeney, Christine Downes, Marie Carolan, Peggy Faughnan.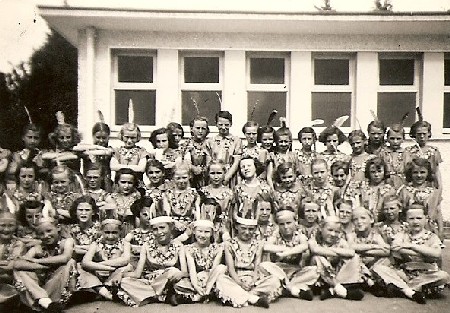 The month of June was a very special time in the Girls School in Lucan long ago!
Above are 4th Class from June 1957 – all dressed up for their Indian Dance in the Annual Drill Display.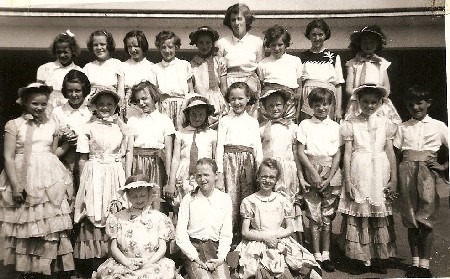 "The Polka" was the 4th Class act in the Annual Drill Display back in 1959

The Drill Display was performed in the School Yard on a weekend in June. Every class from 2nd to 7th had two acts – one could be Irish Dancing or Drill, and the second item was always a costumed dance, anything from a Minuet to Cowboys and Indians, Nursery Rhyme characters to Highland Dancers and Little Dutch Girls. Even 'The Skaters Waltz' graced this stage, having been put through their paces by Miss Medlar, the dance teacher.

The costumes were made mostly by the Nuns – they spent long hours with needle and thread sowing multi-coloured shiny materials, and often, the humble crepe paper came to rescue, in turning out magical costumes every single year. They worked wonders with buttons and bows and odd bits of lace.

Come the big day, the classroom windows where whitened, as these now became changing rooms. The piano was rolled out to the yard and retuned. As well as standard fold-up chairs, tiered seating was installed and it was all systems go!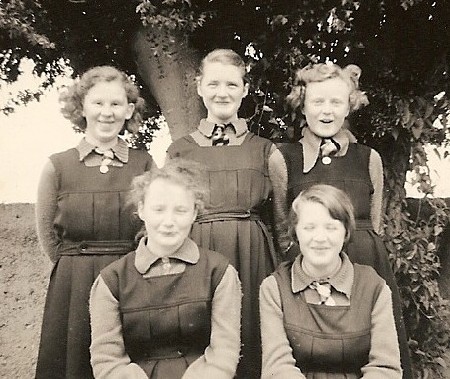 Inter Cert 1957 - Veron Downes, Mary Crone, Marie Quinn, Helen Murphy, Catherine Murphy.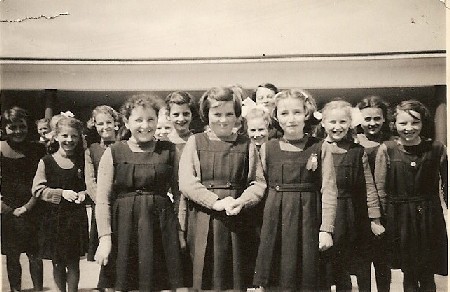 Included in the above photo from the old days are:
M. Mahon, M. Ennis, B. Kilmartin, M. Tuohy, V. Pegley, N. Bridgeman
Part of 4th Class 1963
Back L-R: Deirdre Crotty, Olive Corway, Bernadette Clarke, Jacinta Murray and Mary Rogers
Front L-R: Geraldine Lowry, Margaret Tutty, Nuala Malone, ? Poole, ? Murphy and ??
If anyone has the missing names, drop us a line!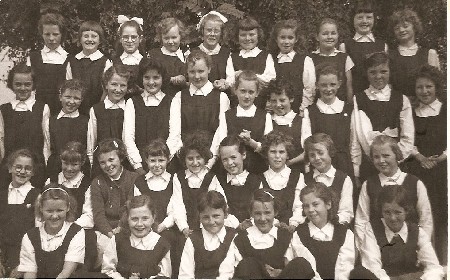 Fourth Class 1960
Back L-R: Joanie Delaney, Christine Dignam, Jean Conway, Patricia Crone, Bernie Gough, ? Condron, ? , Rita McCormack, Catherine Quinn, Catherine O'Neill.

Third Row: ? , Lucy Dignam, Mary Keane, ? , Yvonne Sweeney, ? , ? Giltrap, Mary Turley, Marie Kilduff, ?.

Second Row: Maria Brennan, ? , Dolores McCaffrey, ? , ? , Brenda Beatty, Bernadine Howlett, ? , ? .

Front Row: Maureen Coyne, Josephine Dignam, Pat Rogan, Miriam Downey, Patricia Tully, ? .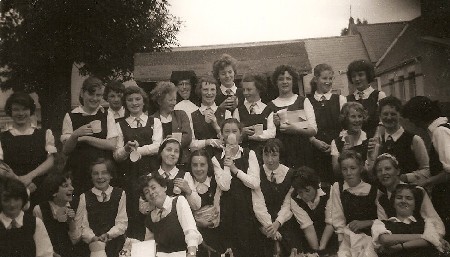 Sr. Joseph with Inter Cert 1960
Lots of familiar faces here as the girls larked about – it was summertime with the girls in their white blouses. Back in those days, the girls wore royal blue jumpers during the winter months.