<< Back to the main Local History page
Stephen Callaghan

If one were to wander leisurely along Tubber Lane, perhaps on a long warm Summerís or Autumnís evening they may come across a fine Georgian farm house with old rustic red barns, which is in the townland of Aderrig and barony of Newcastle. In the adjacent field there may appear to be a clump of bushes and trees. These are the remains of a medieval parish church and a later associated graveyard, constructed on an even earlier ecclesiastical site.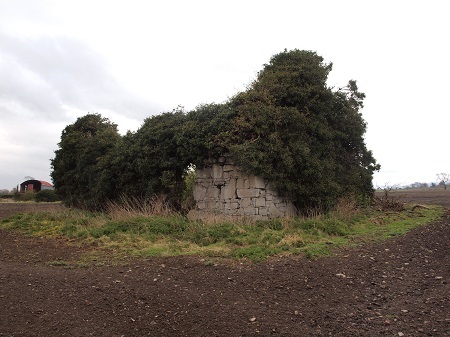 A Brief Site Description and History
When Aderrig is viewed on aerial photos the early ecclesiastical site can be seen as a ring shaped feature. Many medieval churches are located on earlier established Christian sites such as enclosures. These enclosures would have taken the form of a defensive ditch and earthen mound. From aerial photos the entrance to the enclosure at Aderrig appears to be located to the south. However all that can be seen at ground level is what appears to be an artificially raised area. Aerial photos also reveal what might be a field system, possibly related to the enclosure, about 50 meters west of the church ruins. Field systems can take various forms such as ridges and furrows which was (a type of ploughing) or lazy beds (used for growing potatoes).

The medieval church consists of a simple rectangular building made of course rubble stone with an undivided nave and chancel. There is a pointed segmental arched doorway to the south with another, damaged doorway to the north. The southern doorway contains a rebate and drawbar hole, there appears to be a drawbar hole on the northern doorway too. As the drawbar could have only been accessed from the inside of the church this suggests that the parish priest may have lived in the building. It would have also allowed for the protection of the congregation in times of danger.

The church is lit by a narrow window slit in the west gable, the east gable is damaged and only some of the window splay survives. Archaeologists are unable to give the church an exact date of construction.

The first mention of the church is in 1235. After the Anglo-Norman conquest of Ireland (the Normans arrived in Ireland in 1169) it was given to the Archbishop of Dublin in the 13th century. The church continued in use up until the 17th century when the parish was united with Lucan, hence the church fell into disrepair.

All that remains of the graveyard which was destroyed by ploughing are four headstones located to the southwest of the church, all dating from the 18th century, none of which are in their original location. It is possible there are earlier burials present and other people could not have afforded headstones.

While Aderrig may be a small site it is an important example of one of the small medieval parish churches of County Dublin that would have been dotted around the county, many of which no longer survive.

Headstone Transcriptions
The transcriptions of the headstones at Aderrig are recorded below for posterity and the readerís interest.

GARRARD
This Stone u Burial place
Belongs to james Garrard
U his posterity 1763
Heare Lyeth ye Body of his
Father peter Gard u 4 of his
Children allso Dorty
his wife who Departd iuly
the 20th 1764 Aged 64 years

Description: Headstone with incised inscription. IHS with cross rising from bar of H. Made of limestone.

MOORE
This Burial
place Belongs
to Thomas moore
U his posterity
1759

Description: Headstone with incised inscription. No symbols or ornamentation. Made of limestone.

RUSSELL
Here Lyeth ______
Rvsel who Dep __
mar 30th 1733 A __
Here also Lye ___
Chr, Rufsell _____
Mentioned W ___
Life March _____
1756

Description: Broken headstone with incised inscription. Part of the inscription has broken off. IHS above inscription. Made of limestone.

SULLIVAN
This Stone and Burial Place Belongs
To Laughn. Sullivan u his Posterity
Here lyes Three of his Children
1754

Description: Broken headstone with incised inscription. IHS with cross rising from bar of the H in false relief. Made of limestone.

References
Ball, F. E. (1906). A history of the County Dublin. Dublin: Royal Society of Antiquaries of Ireland.
McNeill, C. (1950). Calendar of Archbishop Allenís Register c.1172-1534. Dublin: John Falconer.