<< Back to the main Local History page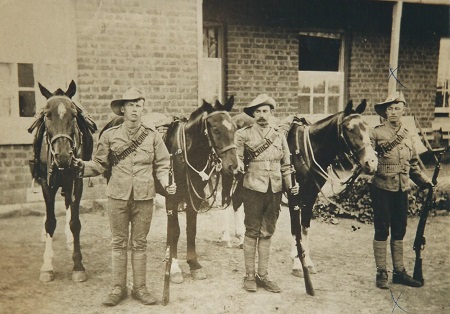 1901 - Bob Behan is the soldier on the right of this photo taken in Ladysmith, South Africa, during the Boer War, at the Battle of Colenso - when hundreds were killed, leaving the men extremely shocked.

The above photograph turned up following a letter received by Lucan Newsletter during our summer break:

"Behan Family, Weir View no 11
I have lived in England now for over 50 yrs. Born in Watery Lane, Lucan.
I want to mention my dear old Granddad Bob Behan. Its 100 years since outbreak of WW1. He was at Mons and the Somme with Dublin Fusiliers.

He was a lovely man with my Nan Behan. We all 8 of us went over the bridge to 11 Weir View for dinner and play. Oh how time flies.

We as the Rogers family, our dad Joe a decorated soldier he served in WW2, took us away to Egypt in 1956; we were evacuated from there, due to rising tensions.

I hope that the people of Lucan remember the men who fought in both wars as my Nan and Granddad Behan and Rogers are in my thoughts as is old Lucan.

Good luck and best wishes
Will Rogers."

We followed up the letter, and Will sent us some wonderful pictures from times gone by.

With all the talk about WW1 these days, we're inclined to forget about another terrible war which rumbled on from the 1890s into the 20th century. It is unlikely that Bob was the only Lucan man who took part in the Boer War back then. I wonder how many more were there!

Bob later took part in World War 1 – at the Battle of Mons, and also at The Somme, all with The Royal Dublin Fusiliers. His grandson Will, recalls that his granddad had South African Medals and WW1 Medals, but is unaware of their whereabouts now.

Remembering Bobtail!
I remember Bob Behan, known locally as Bobtail, as a very old man, sitting on the Griffeen wall opposite what is now the new Carroll's pub. He would be waiting to chat to the bus men as the Number 25 pulled in to its Lucan terminal. Indeed, Bobtail had a few words for just about everyone that passed, including the schoolchildren, from whom he would enquire about the well-being of the various nuns – he had a particular grá for Sr. John Bosco! Such is the memory that many Lucanians will have of him as the generations pass on.

In his working days, he had been employed by the County Council as the local grave-digger at Esker Cemetery. He is mentioned in Treasures of Lucan in a tale about a local burial.

According to the 1911 Census, Robert Behan, aged 31, was an 'agricultural labourer' – he must have left the army after the Boer War and re-enlisted for WW1. He lived with his wife Mary, aged 25 and was 3 years married, with a 1 year old son, George.

He does not appear on the 1901 Census as that is when he was in South Africa.

Bobtail had seen out two wars – as children, we just skipped away laughing at whatever little quip he had for us; little did we know that we had a whole encyclopaedia at our fingertips!

These days, the likes of Bobtail might be invited to a classroom where interested children would be spellbound listening to an account of his lifetime.

Joe Rogers
Will's father, was Joe Rogers from Beaumont Cottages on the Lock/Newcastle Road.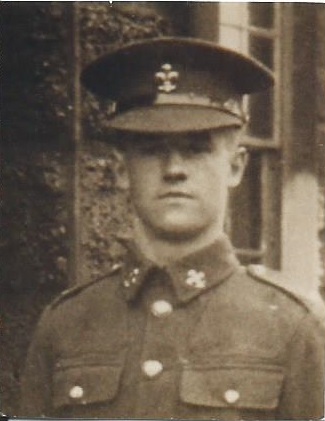 Joe joined the Manchester Regiment in1929, and saw service in India and Burma 1930 – 32, the Sudan, and also Dunkirk when he went missing in action.

Will recalls his mother Mary (nee Behan), getting the dreaded telegram – but fortunately, Joe survived.

The family left the Watery Lane and Lucan in 1951, going to the Middle East – to the Suez Canal zone. They enjoyed great times there, but eventually due to rising tensions, they were evacuated, and ended up in Aldershot in 1958.

Joe Rogers served at Mons Officer Cadet School and was awarded the British Empire Medal - When it was awarded the band played McNamara's Band and If Your Irish, Come into the Parlour - a proud day for the family.

His collection of medals now in the possession of his son Will, also includes:
Burma, India 1930-32; War Medals 39 to 45; Suez Canal Medal; Long Service Good Conduct Medal; Meritorious Service Medal; Dunkirk Battle Medal.

The Rogers Children
Joe and Mary Rogers lived in the Watery Lane with their young children.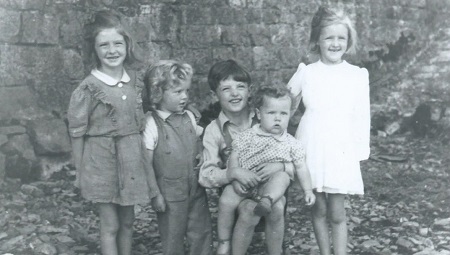 This photo was taken at the bottom of Watery Lane, on the river's edge just beside the weir.
L-R: Irene, Joe Jnr, big brother Ronnie with Will on his lap, and Betty.
Another sister, Rhona was not born at this time, and after they left Lucan, Ann was born in Hollywood, Co. Down, and Nigel in Carrickfergus, Co. Antrim.

Nothing but memories………
The little houses of Watery Lane are long gone – I think there were three, but I stand corrected. All that remains is the front wall along the right as you go down towards the river, with built up doors and windows, just about discernible now that the ivy has been stripped from the stones.

Under the modern tarmacadam are the old well-worn doorsteps which were still visible up to the time of the modern development on the old laneway.

Many thank to Will Rogers for shedding a light on another of Lucan's fondly remembered characters.

Mary Mulhall