<< Back to the main Local History page
Some weeks ago, we carried an article prompted by a gentleman who was looking for information on Caldwell's Garage(where Topaz is now), and the Panhard Cars, which were assembled there in the early 1960s.

These two unique photos arrived as a result.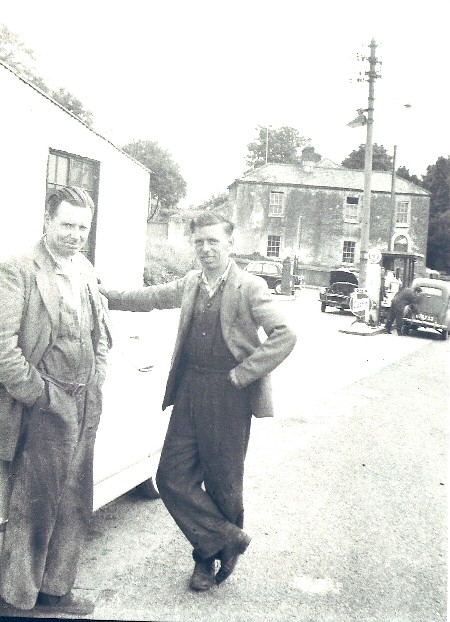 Pictured above are Paddy Langan who was the foreman, and Tom Tully from Clondalkin. They are actually standing beside John Caldwell's Panhard Dyna Z12, which was bought in France c. 1958/59. This car was later used as a template to assemble the PL 17 model at Lucan.

In the background, a Morris Minor and perhaps a Ford Anglia are being filled with petrol – 'Caltex 5 Star'!

All traces of the house in the background, at the corner of Esker Hill and the Main Road, are well gone. The Village Court has replaced it and the other old buildings.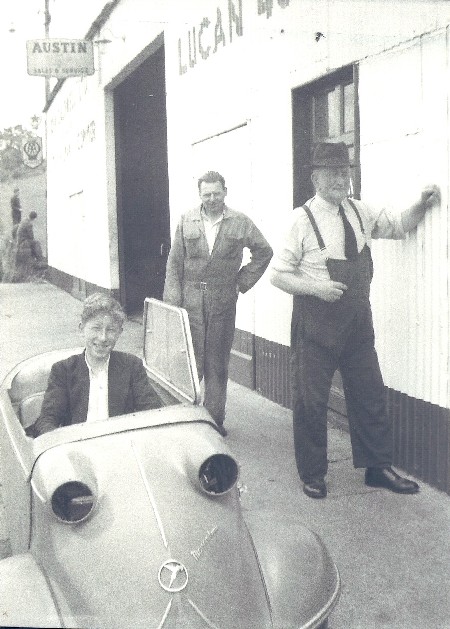 This photo shows a young Matt Murray, in a partially assembled Messershmitt. Matt served his time there, and now lives in Australia. Next to him are Paddy Langan, and the man himself – Big John Caldwell.

The garage itself was a 'Tram Shed' in another life, and after that it became 'The Lucania' Ballroom, before John Caldwell purchased it and started his business.

Many thanks to Frank Murray for the photos, and to Frank Capelli for his information on the Panhard Cars.

Mary Mulhall
mary@lucannewsletter.ie