<< Back to the main Local History page
– where Hermitage Golf Club is today!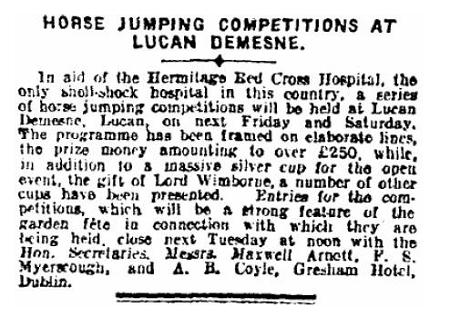 This notice appeared in The Irish Times on Saturday 1st September1917.

Horse Jumping Competitions were to be held at Lucan Demesne – most likely the grassed area to the front of Lucan House.

"The programme has been framed on elaborate lines, the in connection with which they are being held, close next prize money amounting to over 250, while, in addition to a massive silver cup for the open event, the gift of Lord Wimbourne, a number of other cups have been presented."

Lord Wimbourne was the Lord Lieutenant of Ireland at the time.

Hermitage's old wooden clubhouse was leased to the British Pensions Office by the owner, Mr. Crozier, to be used as a place of rest for some war wounded - it was referred to as 'the only shell-shock hospital in the country'. It operated as such for some years after the war until all the soldiers had left. This particular building was demolished in the 1930s.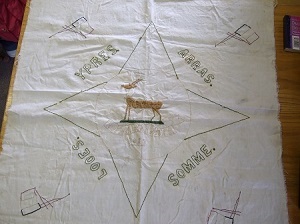 A cloth which came from Hermitage Hospital – never finished, it is the early stages of a commemorative piece for the Battles of Ypres, Arras, Loose and the Somme, for Royal Warwicks.

I am not aware of any Lucan men being treated there, but some local people found employment throughout the years of occupation.

Some New Evidence.........
I had previously understood that the War Hospital existed in the old wooden clubhouse, but newer evidence has come to light!

A gentleman who collects medals, sent us a photo of a medal/token, commemorating the above fete. The illustration on the piece suggests that the hospital was actually in Hermitage House itself.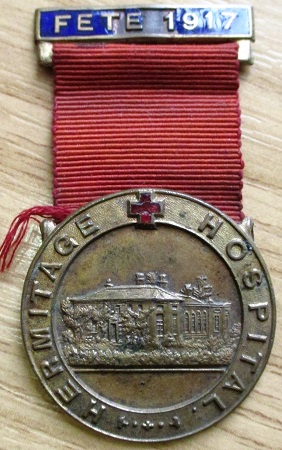 Our collector further informs us:
"The Fete of 1917 was a great success with 373 entries, and 161 horses competing over 5 hours, as FULLY reported in the Irish Times that week.

But also in the Irish Times 11 Oct 1918 was a report of the Joint Executive Meeting in Dawson St., of the Red Cross and St John Amb., Co. Dublin branch, where the Hon. Mrs Barry stated that the Hermitage was fully occupied with 75 patients, and that the hospital had excellent results for the shell shocked patients treatment which they specialised in."

Sincere thanks to our friend for this new information. It's quite extraordinary what turns up from time to time!

Mary Mulhall