<< Back to the main Local History page
It is very appropriate that this year, the 250th anniversary of the publication of John Rocque's 1760 map of the County of Dublin, we can at last access many of our old maps via the Internet.

Go to http://gis.sdublincoco.ie/historical_mapping/ and there you'll find a selection of maps to browse through:
Rocque 1760
Taylor 1816
Duncan 1821
Ordinance Survey 1843, 1911 and 1935
GSFS maps for 1940 and 1942
An Aerial Photo from 2009
Current Ordinance Survey Map

The site is very easy to navigate – you can zoom in on any particular area of South County Dublin on all the maps – no doubt this will be a great resource to students, and also to people trying to find out more about what is perhaps a new area they live in.

John Rocque's is the oldest map we have with any real detail of the Lucan area in it. Sections of it have been reproduced in the Newsletter previously, and are also included in Treasures of Lucan.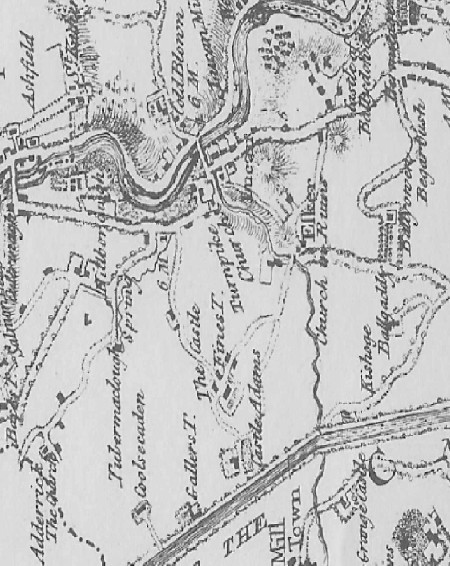 Born of a French Huguenot family who came to London at the beginning of the 1700s, John worked as a surveyor, engraver and cartographer. He mapped many areas of Britain, and by 1760, just two years before his death, he got Dublin down on paper.

His maps give the greatest detail with what amounts to drawings of the topographical features, probably emanating from his talent as an etcher.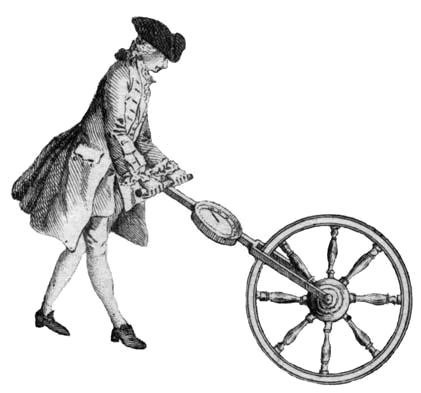 The drawing above appears on Rocque's Map of Middlesex and shows a well-dressed man surveying a road with his "way-wiser". This figure is widely believed to be John Rocque.

How a Way-wiser works……
A way-wiser consists of a large wheel that rolls along a level surface, plus a dial which registers the distance travelled.

The wheel usually measures 8.25 feet in circumference, requiring 2 revolutions to equal 1 pole. 320 poles equal 1 mile.

The larger hand on the dial makes one revolution per mile. The shorter hand indicates the number of miles travelled.

And that's how they went about making maps years and years ago..............

Mary Mulhall