<< Back to the main Local History page
We have a long line of Kings and Queens in Ireland's past, and often times the lines are blurred between myth and reality.

Names that ring a bell from school days are the likes of Cormac MacArt, and Diarmuid McMurrough, and the good Queen Meabh. One of our great High Kings was Brian Boru who was slain in his tent on Good Friday, at the Battle of Clontarf in 1014.

A Lucan connection…..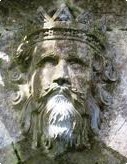 The last High King of Ireland was Rory O'Conor, who died in 1198. His descendants actually lived in Lucan House and Demesne from 1930 to the mid 1940s – they were the O'Conor Family. The only son in the family, Charles, became a priest and so ended the male line of descent from our last High King.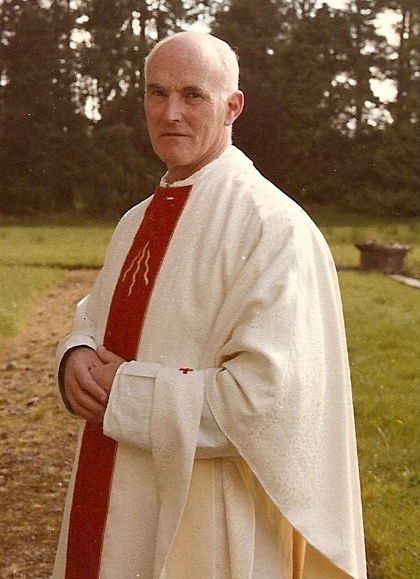 The O'Conor Don - Rev Charles O'Conor S.J. who died in 1981.

It was in Rory O'Conor's time that the trouble started with the Normans, which led to us being overseen from England from that time on.

The Lords and Monarchs of Ireland
King John 1177 – 1216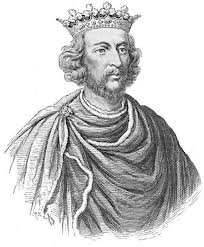 He was still 'Prince John' when he started the job. On becoming King, he commissioned the building of many roads and bridges in Ireland, and in 1210, two bridges were built in Lucan – one over the Liffey at Bleach Green, of which there are some remains below water, and the famous 'Oldest Bridge in Ireland' on the River Griffeen at Esker – the centre arch stands to this very day.

The townland of Ballyowen and also some of the newer estates in Lucan are named after King John.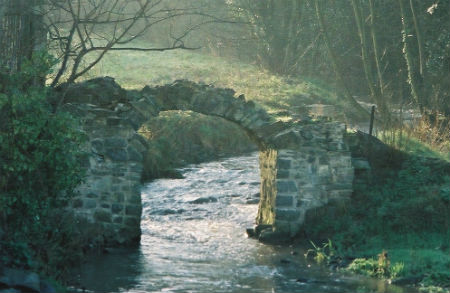 King John's Bridge on the Griffeen at Esker

After King John's death in 1216, we had
Henry III 1216 – 72
Edward I 1272 – 1307
Edward II 1307 – 27
Edward III 1327 – 77
Richard II 1377 – 99
Henry IV 1399 – 1413
Henry V 1413 – 22
Edward IV 1461 – 83
Richard III 1483 – 85
Henry VII 1485 – 1509
Henry VIII 1509 – 47
During Henry VIII's reign, they became Monarchs of Ireland as opposed to Lords of Ireland.
Edward VI 1547 – 53
Mary I 1553 – 58
Elizabeth I 1558 – 1603
James I 1603 – 25
Charles I 1625 – 49
The Commonwealth 1649 - 1660
Charles II 1660 – 85

James II 1685 – 88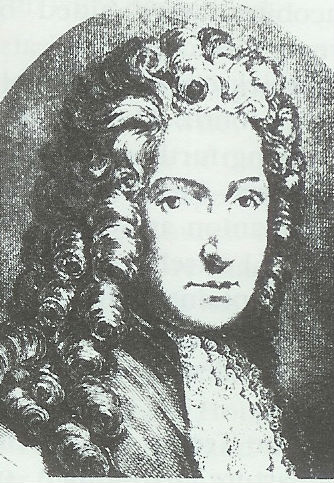 Earl of Lucan, General Patrick Sarsfield served under King James II

William III
and Mary II 1689 – 94
William III 1694 – 1702
Anne 1702 – 14
George I 1714 – 27
George II 1727 – 60
George III 1760 – 1820
George IV 1820 – 30
William IV 1830 – 37
Victoria 1837 – 1901

When Queen Victoria visited Ireland in 1900, she passed through Lucan on her way to Carton House, and received a welcome of sorts!

Out and out Republican, Johnny O'Mahony who owned a shop in the village, more or less where 'Cartridge Green' is at the moment, decided to protest.

He put out on the steps in front of his shop, a bag of salt, a shirt and one Wellington boot, as a snub to the royal visitor.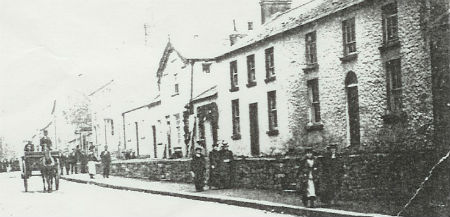 Johnny O'Mahony's Shop was in the centre of this picture taken around 1900.

It's been suggested that the Salt represented 'rubbing salt in the wound'; the Shirt referred to the English taking the shirt off your back; the Boot was to dismiss them, or give them the boot out of Ireland.

Not many to go……….
Edward VII 1901 – 10
George V 1910 – 36
Edward VIII 1936
George VI 1936 - 1949

The Irish State came into being in 1922, though still a dominion of the British Commonwealth. It consisted of 26 of Ireland's 32 counties.

A new constitution in 1937 saw further links between Britain and Ireland removed, and in 1949, it became the Republic of Ireland.

Lucan was an unusual place back in the old days. It would appear that on the whole, people from all sides got on together.

There is no evidence of the great famine having any effect in Lucan, yet a few miles up the road in Celbridge and North Kildare parts, the story was very different. Could it be that we were blessed with good landlords, and they likewise blessed with good tenants and workers!

As a Royal Irish Constabulary village, there may well have been more royalists than republicans around – one local hostelry was named The Royal Arm – these days it's Courtneys!
We also had The Royal Bank of Ireland – now AIB!

Nevertheless, like everywhere else, there was a class system, and everyone knew his or her place!

The only Royalty which people nowadays may remember passing through our village were Princess Margaret and Lord Snowdon while on their way to their honeymoon down in the midlands, and also around that era, Princess Grace and Prince Rainier passed through on their way to Carton.

On the latter occasion, we were allowed out of school to stand and wave at the Monaco Royals as they passed – it was of course a big deal that they were Catholic Royalty!

Mary Mulhall
(A History of Lucan 1991; Treasures of Lucan 2007).