<< Back to the main Local History page
That Garage!
Still on the subject of Caldwell's Garage, we were thrilled when the above photo came to us this week.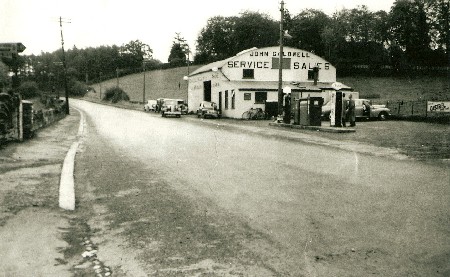 It shows the complete building which was formerly a tram shed and later the Lucania Ball Room, before John Caldwell purchased the property in the early 1950s.

The field behind the garage is where the Brookvale estate is today, and to the left, going up Esker Hill, the old railing is just visible. The field itself was known locally as Bella Leonard's Field. On Bella's death, the field became the property of St. Mary's Parish, and was used as the 'play ground' for the Tech which was in the present Adult Education buildings on Esker Hill.

Fossett's Circus and several carnivals pitched their tents here over summer time, and then in winter, there was more excitement on the spot as all kinds of home made sledges raced down the icy hill, sometimes into the goalposts at the bottom (ouch!!).

The signpost on the left of the photo indicates 'Clondalkin 3' – 3 miles away up Esker Hill!

Thank you to Sean Walsh for putting the picture our way.
Faces from the Past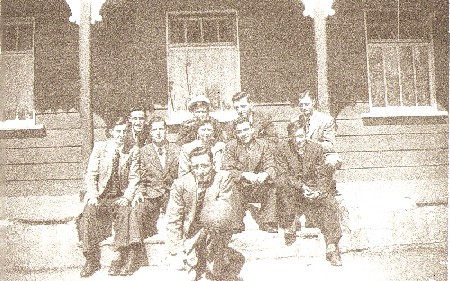 At The Coffee House in the mid 50s were:
Back: Eamon Murray, John Harris, Bill Graham, Leo McCormack.
Mid: Ben McCleve, Jimmy Cullen, Rita McCleve, John Green, Jim Harris.
Front: Jem Gannon.

Thanks to Triona Walsh for this little gem!

Keep the photos coming!
Mary Mulhall
mary@lucannewsletter.ie