<< Back to the main Local History page
Best New Year Wishes

May this bright season for you hold,
A round of mirth and happy cheer,
And joys too great to e'er be told
Make yours indeed a glad New Year.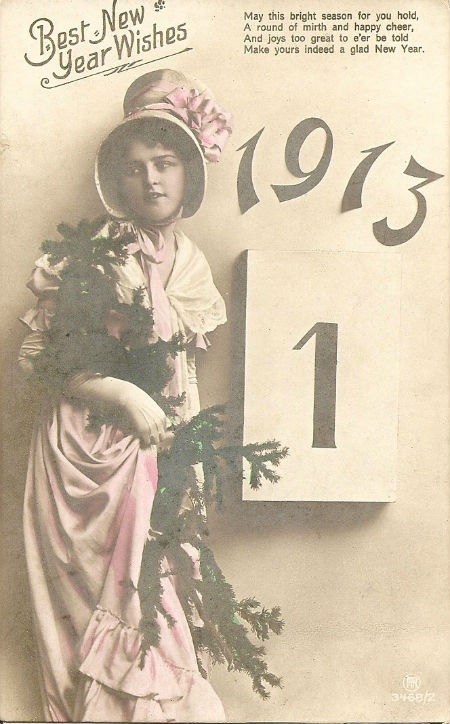 The above wish was sent to Miss Annie Hughes, Weir View, Lucan, one hundred years ago this year – in 1913!

A postcard, the message on the back reads:
"Wishing you all the 'complaints' of the season.
Birdie"
…. And postage was a halfpenny stamp with an image of George V.

I don't know who 'Birdie' was, but she apparently had a great sense of humour with her 'complaints' instead of 'compliments' of the season.

Annie Hughes was aged about 32 in 1913, and in the 1911 census is described as a 'Wool Darner in a Cloths Factory' – Hills Mill.

She lived at House No. 4, Weir View with her widowed mother Sarah who could not read or write, along with her older married sister, Maggie Watson who was also a Wool Darner, and her 12-year-old son William .

Also in the household was Annie's cousin, 19 year-old niece, Maggie Dolan, a Wool Weaver, who along with a second grandchild, Norah Hall brought the total to 6 people on the night of the 1911 census.

Maggie Watson's husband is not mentioned at that address in 1911, though her status is 'married'.

Many locals will remember Maggie Dolan as an elderly lady in Weir View, and it was Maggie who kept this card safe, and passed it on to another great Lucanian, Triona Walsh (Byrne), who shares it with us 100 years later!

But back to New Year's Eve 1913!
Annie and all the family no doubt listened and danced to the music of the Lucan Fife and Drum Band

. Founded in the late 1800s by Frank Murray of Weir View, one old timer recalled the band parading to Leixlip Chapel on New Year's Eve, then back to the Salmon Leap where they played in the New Year at 11pm, and proceeded back to Lucan where they were met at the Coffee House by Stephen Glasson ringing a bell and announcing a late night dance on the road outside the Coffee House.

Surely Annie and Maggie and all the family and neighbours from Weir View – the Behans, Murrays, Kilmurrays, Stapletons, Lanigans, Byrnes and Kellys - shared in that festive occasion.

Little did they know what lay on the horizon with the hardship of the Lock Out of 1913, and the sadness that would follow some months later with the Great War taking so many young men away from Lucan, some never to return.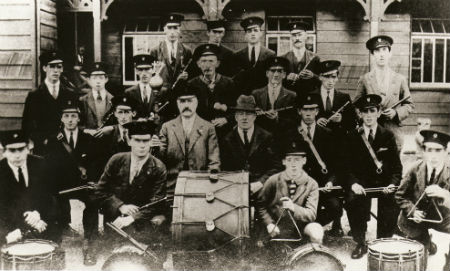 The Lucan Fife and Drum Band c. 1928

Back L-R: John Joe Cullen, Paddy Feeney, John McCormack, Matty Boyne.
3rd L-R: Christy Rogers, Teddy Murray, Christy Lowry, Jem Lanigan, George Thornberry, Mick Green, Parkie Carrol.
2nd L-R: Frank Kearns, Philip Feeney, George Howlett, Frank Murray (Founder), Tom Byrne, --?
Front L-R: Jack Cotter, young Frank Murray, and Tommy Farrell.

The band's uniform consisted of a cap and "your Sunday best". Practice was held every Tuesday and Thursday night in the Coffee House, and the band numbering 50 – 60 members made many public appearances at local events and all over the country. Annual outings took place to Arklow and Athlone among other places, and they usually travelled by train from Lucan North Station

A cutting from the Irish Daily Independent, Monday 8th October 1894, mentions that they represented Lucan at the Parnell Anniversary Memorial Procession three years after the death of Parnell. They were also present and played at the funeral of O'Donovan Rossa in 1915.

Much of the music was written by the founder, Mr. Frank Murray, and one tune closely associated with the band contained the lyrics:
"Kitty Magee let go me knee
and give me a cup of the Co-Op tea".

The Lucan Fife and Drum Band disbanded around 1937.

* Stephen Glasson, the bell-ringer on New Year's Eve was a Kildare born plasterer, lodging with Thomas O'Neill and his family in Lucan Village.

Mary Mulhall