<< Back to the main Local History page
This is Lucan Village around 1970, I think.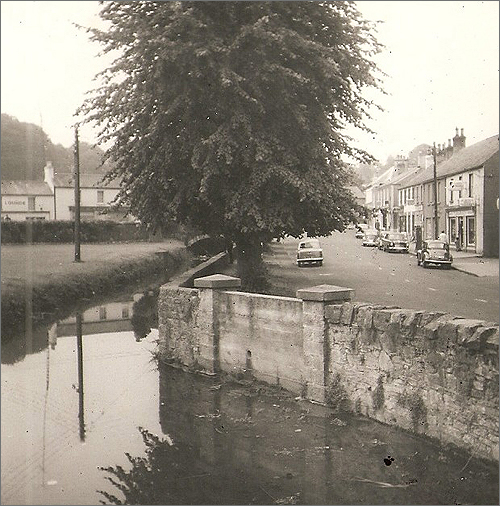 It was when we had two-way traffic along by the Griffeen!
When Permanent TSB was Mr. Sharkey's Drapery Shop!
When a petrol pump stood on the road outside it!
When the only cars to be seen were a Morris Minor, a VW Beetle, and two Ford Anglias – the black one on the right might have belonged to Mr. Toolan who owned a grocery shop along here.
It was before Bob Carroll's Pub (now Courtneys) got a thatched roof.
It was before AIB Bank got their first new building – the old two-storey build can just about be made out at the top of the street.
Some Questions!
Does anyone remember which year the Kangaroo burned down – it was on Easter Sunday morning – was it 1966 or '67?
Does anyone remember which year the old bank building (Royal Bank of Ireland) was knocked down and the 'new' single storey AIB built?
Does anyone have a picture of Har Farrell and his horse, Blossom?
If anyone has the answers, please drop a line to Lucan Newsletter or email Mary@lucannewsletter.ie Thank you to the person who sent in the above photo.
Mary Mulhall