<< Back to the main Local History page
Many factors conspired to bring about the rebellion of 1798. These included a fast growing population, (the population of Dublin had grown to about 200,000 people), agrarian unrest and outside influences such as the French and American Revolutions. Many anti-Catholic laws had been removed by legislation but political power rested firmly in the hands of the Protestants who still controlled the army, finance and education. The legacy of the penal laws remained and there was considerable unrest at a local level in Ireland. However, it was not until the last decade of the century that a movement to effectively channel popular feeling into a united cause emerged.

The Society of United Irishmen was founded in Belfast in October 1791. The outbreak of the French revolution in 1789 and the concepts of liberty, equality and fraternity had had a profound influence on the young radicals who founded the society, foremost of whom were Wolfe Tone, Hamilton Rowan, Samuel Neilson and Thomas Russell. Their objective was that all people would be equally represented in parliament and that the political system would include people of all religious persuasions. Initially the United Irish movement was slow to spread outside Ulster. However, it did organise in Dublin where Napper Tandy became one of the leading figures.

South Dublin in 1798
In 1801, Joseph Archer undertook a survey of County Dublin on behalf of the Dublin Society and from it a clear picture of the county emerges. Archer remarks on Clondalkin's ancient round tower, Lucan is described as a 'handsome town', Knocklyon 'a small pleasant village' while Rathfarnham is a 'large handsome village'. Newcastle, although a 'poor village' was formerly a borough town and returned two members to the Irish Parliament. Tallaght he describes as 'a large village or town … situate in fine country'. Archer also speaks highly of the many estates in the area including Marley, owned by the Right Hon. David LaTouche, Rathfarnham Castle – the seat of the Marquis of Ely, Lucan – the seat of George Vesey Esq. and Palmerstown, the seat of the Right Hon. Lord Donoghmore.

Events in Lucan in 1798
On the evening of 23 May 1798, the Athlone bound mail coach was stopped and destroyed in Lucan. The stopping of the mail-coaches from Dublin at various points along their routes was the signal for the outbreak of the Rebellion. While this failed in many instances, the Lucan rebels were successful and a correspondent noted on 24 May "from this town all is confusion".

On the early morning of 24 May a party of 11 Angus Highlanders, commanded by Lieutenant George Armstrong, and accompanied by Mr. Wynne of Clonsilla and his yeomanry corps were en route to Ratoath where a large force of rebels had gathered. On their way, they encountered and dispersed a party of rebels near Esker and arrested two leaders 'of the name of Geraghty'. Another body of rebels, led by a Mr. Daly had also been dispersed near Lucan, although many of this group were either killed or taken prisoner.

The night of Friday 25 May saw more action in the Lucan area. At 9 o'clock in the evening, an iron works, owned by Mr. Blair, was attacked by approximately 100 rebels armed with guns, pikes and swords. George Cummins, a Catholic deserter from the Clonsilla Corp of yeomanry, was afterwards court-martialed and charged with leading this band. Evidence was given by John Lyons and James Carroll, both of whom were employed at Blair's. Carroll gave evidence of guns being stolen, while Lyons said that he and several others were taken prisoner and marched off towards Dunboyne. Cummins was court-martialed on 10 July 1798 and sentenced to death. He was afterwards pardoned.

(Ref. 1798 Rebellion – History & Heritage, courtesy of South Dublin County Council Libraries Local Studies).
James Napper Tandy (1739 – 1803)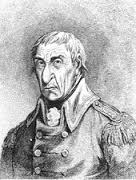 An Irish Revolutionary and leading member of the Society of the United Irishmen. Tandy's Lane in Dodsboro is named after his family who resided in the area.

Ref. Treasures of Lucan (2007) Mary Mulhall & Joan O' Flynn.

V.F.