<< Back to the main Local History page
Because of where the village of Lucan is situated – right down in a valley – there have always been big problems with snow and ice.

It was because of the steep gradient of Chapel Hill that the Main Road between the Convent and the Garda Station was built back in 1837. It was impossible for a horse and cart to travel up the hill in icy conditions.

Up to the early 1960s, CIE buses regularly got stuck in the village – they couldn't get up Chapel Hill. At the time, people living on Main Street looked after the drivers and conductors with hot drinks and sandwiches.

Har Farrell and his horse Blossom, were responsible for gritting the village back in the 1940s and 50s.

Another memory, which the cold weather has brought to mind, is the sigh of a Dublin Dairies Milk Lorry arriving with crates of full milk bottles. It was so cold that the cream (pre EEC days), at the top of the bottle froze, popped the foil cap off, and instead of bottles of milk, they looked more like crates of candles in milk bottles.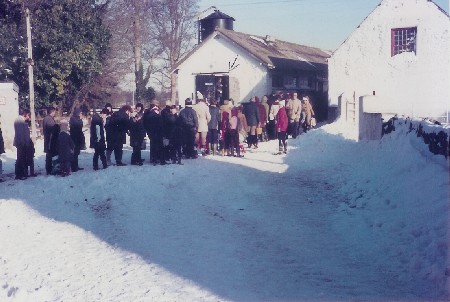 Back in 1982, people queued for milk at St. Ed's Farm (above). Hayden's Farm at Esker was another place where milk was available when deliveries couldn't be made to local shops.
I don't think there are any dairy farms within walking distance of Lucan these days!

Mary Mulhall