<< Back to the main Local History page
The family's association with Finnstown began around 1883, when Thomas and Julie Nash and their family came here from Scribblestown House, near Phibsboro.

With further properties on the north side of Dublin, they divided their time between Finnstown and a house in Howth called Seamount, where Thomas Nash died in 1887. He was succeeded by his son, Richard Grainger Nash (born 1860), who was to be a prominent figure in the life of Lucan.

Within a year of his father's death, Richard became a Justice of the Peace, and later would share the Magistrates' bench in the Lucan Petty Sessions Court with other local landowners and industrialists.

In 1892, he founded 'Lucan Dairies', a company which survived into the 1960s. Starting out in Benburb Street, the business soon moved to 23 & 24 Parkgate Street (now Gowan Motors), from where they expanded to several more outlets.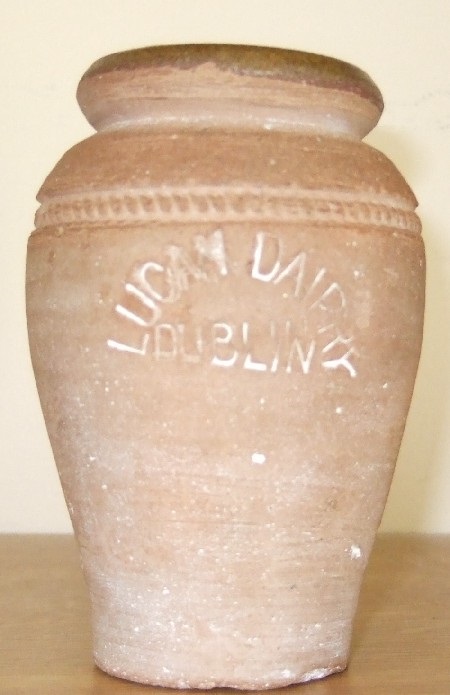 Another business interest of Richard's was 'Lucan Mineral Waters' – originating from a natural spring at Finnstown.

The label on the bottle reads:
Lucan Sparkling Table Water
Ginger Beer
Home Brewed
Brewed & Bottled in Pure air.
Away from all City Impurities
At the Lucan Crystal Springs
Co. Dublin
Telegrams - Nash Lucan

The Trademark shows the top of a globe - the northern hemisphere, with what appears to be some sort of 'aeroplane'! There is also a 'Bristol' imprint at the bottom of the bottle, perhaps where the earthenware container was manufactured.

The 1901 Census details the extent of the Finnstown estate: 58 outbuildings, including a coach-house, a dairy, 2 forges, 3 piggeries, 5stables and 30 poultry houses.

In 1908, Richard Nash married a distant and much younger cousin – Noel Jeune, born on Christmas Day in 1879. They were married in Oxford by three clergymen – one of them, the Revd. Charles Follis. The newly-weds set up home in Finnstown where in 1910 they had a son Richard, and a daughter Kathleen, in 1913. Tragedy struck when Richard died suddenly in 1914, at the age of fifty-four.

Richard's widow remarried in October 1917 – her new husband was Canon Charles Follis, one of the clergymen who had officiated at her first marriage. A daughter, Kathleen, was born to them in 1918.

Charles Follis died in 1925, but Noel lived to the ripe old age of eighty-eight, dying in 1967. Pre-deceased by her son Richard, she was survived by her two daughters, Sheila Mannion (Nash), and Kathleen Spencer (nee Follis).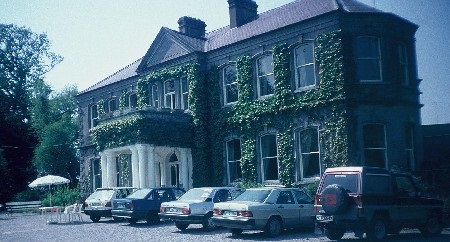 Several other members of the Nash family died over the next few years, and it would appear that the family no longer lived at Finnstown after 1925, though they retained ownership for many years.

The family vault is in Mount Jerome Cemetery, Just inside the western boundary wall, at a spot called Rathland Corner, a granite vault is inscribed: "Family vault of Thomas James Nash Esq. Finnstown , Lucan". Fourteen of the family were interred here between 1878 and 1947.

Many thanks to Tomás Moffett for access to his research of the Nash Family, and also to the Mullarkey Family. Mary Mulhall