<< Back to the main Local History page
Every now and then, I come across a photo with several strands of interest. These pictures of Nurse Moffett are no exception.
Molly Collins, the eldest of 13 children was born in 1884 near the Glen of Imaal in Co. Wicklow, and came to live at the Grange in Lucan as a young girl.
At the age of 18 she married Edward Moffett, a man a great deal older than herself at 37, who came from Sandymount and was a Post Master in Dublin. Molly was driven to her wedding in St. Mary's Church from a house now known as Finnstown Country House Hotel, then owned by the Nash family, where her mother and father worked.
The couple lived in Sandymount where they had four sons and two daughters. In 1915 when the eldest child was 9 years old and the youngest 10 months, Edward died, leaving the 29 year old Molly with six children.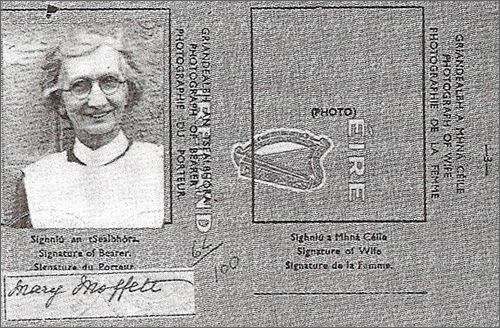 Nurse Moffett's Passport
She left for England where she trained as a general nurse at St. Mary's Hospital in Plaistow, East London On her return she did midwifery at The National Maternity Hospital, Holles Street, and subsequently was appointed Midwife to the Townland of Lucan, where she and her sons bought Rose Cottage (beside the Garda Station / Cromer's Yard, where the Estate Agents is now).
Over forty years, it is estimated that Nurse Moffett delivered over 1,000 babies in the area, which included the Village, Cooldrinagh, Clonsilla, Barberstown, Balgaddy and Ballyowen. Her mode of transport was her bicycle on which she often travelled in the middle of the night to deliver a baby.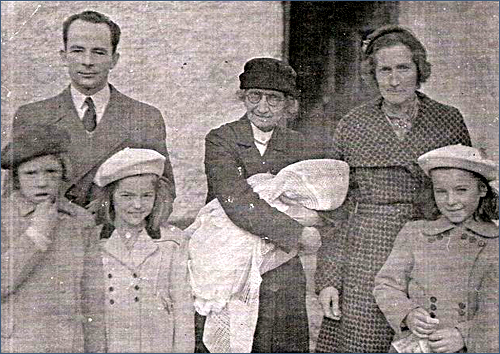 The photo above taken in 1953, shows Mr Bannon and Mrs Whelan, godparents of Robert Carroll, the baby held by Nurse Moffett, along with a childhood friend, Josephine, and Valerie and Mary Carroll.
A legend in her own lifetime, it was she who set up the Lourdes Invalid Fund in Lucan, and travelled there with invalids on thirty occasions.
I feel privileged to have known her as a child. Back in the year dot, my family lived in a house in Cromer's Yard, and we were neighbours of Nurse Moffett's.
Of course, I didn't realise back then, the extraordinary life she had had, but rather knew her as a kind gentle lady, who long after she was retired, still wore her nurses uniform ever day.
For some reason or other, I thought about her a lot this Christmas – perhaps it was the great big holly tree in her back garden, which served many of the villagers every Christmas.
Mary Mulhall
(Ref: Lucan and Lucanians 1996; The Moffett Family)