<< Back to the main Local History page
FOUND: Village with no employment problems.
Nouvelliste writes about Lucan
(Times Pictorial, week ending May 5th 1951).

Lucan on the Liffey? Not on your life. The little village storied in history because of its association with Cromwell, O'Neill and Sarsfield, has a river of its own. Lucan on the Griffin (pronounced Grifeen) is the claim of the town's eight hundred people to distinction.

The Griffin, a small (very) tributary of the Liffey glows into the main waterway at the town that is a landmark to travellers westwards from Dublin.

Last week I travelled westwards – as far as Lucan. It was a sunny day, but few of the resident were basking in the town's "park" built beside the Griffin.
"Sure they're all at work – either in the mills or in the tile factory ….." I was told by one of the town's oldest residents Bob Behan who celebrates his seventy-second birthday "sometime this year …."
Bob I will always remember as the Lucanite who declined the invitation to have a "pint."
"Sure I'm on the wagon, sonny …. Have been for some time now ……"
It is not so many years ago since Bob was the town's water Inspector. Now that he has retired he just ambles down to the "park" where he chats with drivers and conductors of buses coming in from Dublin.

WORK IN PLENTY
Offhand I guess it to be the only town in Ireland without an employment problem. A flour factory (Shackletons), a woollen factory (Hills), and a new cement-block factory (referred to by Lucanites as "the tile factory," because roofing tiles are also turned out). Anyone left idle after these places are manned by townsmen (and women) is employed in any and all of the numerous shops in the village.
Hunger, form walking in the Liffey (sorry – Griffin) air drove me to the town's restaurant where I met the newest Lucanite, Felix Bonanate.
Felix left his native Turin way back in 1939. He joined the Italian Diplomatic service as Chef to Ambassadors. Until recently he was Chef to His Excellency, the Italian Minister, who lives in "the house" in Sarsfield Demesne.
Another feather in Lucan's cap. It is probably the only town in Ireland with a restaurateur who has sent dishes to the tables of the mighty in the world of diplomacy.
Felix aided by his two young daughters and wife, now attends with the same courteous ceremony to the needs of Lucan's factory workers, who have permanent mal-dates in his restaurant.

PRINTING MAN
One Lucan man doesn't eat in Bonanate's. He is, at eighteen years of age, the chief compositor in O'Leary's printing works.
Eamonn Murray, who left one of the village's three schools four years ago to take up printing as a career, comes to his press-room every morning at nine o'clock and works steadily till six in the evening. For his dinner break he goes to his home in the town.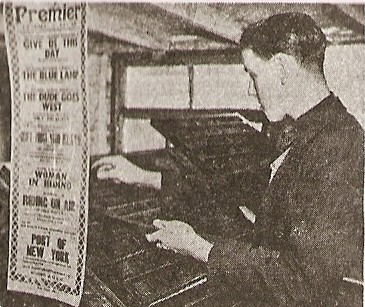 "I just drifted into printing …." Says Eamonn, and adds, " … I don't want to leave it now – nor Lucan either ….."
Posters for current films in the local cinema (also owned by the O'Leary family), booklets extolling the beauty of "Lovely Lucan", concert programmes, and what have you are all part of the day's work to the young head-comp, who doesn't want to move into any newspaper lino-room.
One day, perhaps Eamonn will start his own printing firm and will find himself another one of Lucan's employers who find the labour problem acute locally.
Locals in Giltrap's shop, where La Banca is now NO FISHY YARN
It you expect me to go into historical details of Sarsfields Demesne (sixpence entrance) you're going to be disappointed.
"It is lovely place – for picnics and coortin' couples …." Local man Michael Donelan, (the town's barber), whose Sealyham terrier is at present rearing a fox cub.
Michael told me, in an off-hand sort of way, that "there is good fishing there too ….."
The day of my visit locals and visitors from Dublin, were pulling out salmon with (almost) every cast of the line.
This is NOT a fishy story. I personally saw one angler cast twice – and on each occasion reel to bank and grappling hook an eight-pound salmon.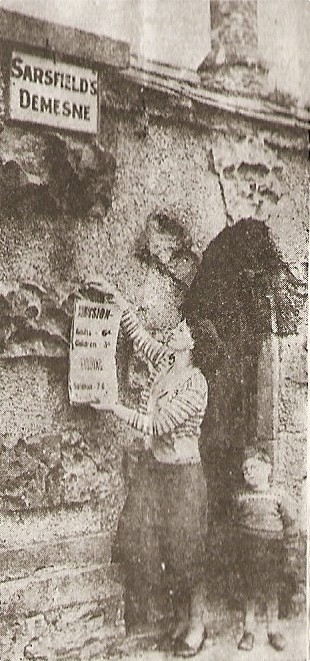 Mrs. Delaney and son Gerry prepare for visitors to Lucan Demesne.

One may, on the payment of seven shillings and sixpence have quite a good day's sport with rod and line as long as the salmon are taking. If eight pounds is too heavy a piscatorial victory one may, on payment of two shillings and sixpence try one's hand at pulling a trout from the Liffey.
Probably most disappointed man I met was the local Rector, the Rev. R. G. Love.
He fishes on the stretch at the bottom of his garden. The day I called he had invited a visitor. It was the visitor who pulled in these two eight-pounders. When I left the Rector was still casting hopefully.

SPA WATER
Most awkward moment for Nouvelliste in the day's adventure? The moment I took one "swally outa a glass of water" and nearly spat it out again.
I didn't cough it back up because William Morrison, manager of the Spa Hotel, was at my elbow and it was he who had invited me to "knock it back …"
It was the famous Spa water and it's good!
To put joy back into life, William invited me on a tour of inspection. In the course of that tour I met hotel staff and members drawn from every county in Ireland.
William is proudest of his daffodils. When he took over the job of manager twelve years ago he planted one thousand. Every year since then he has added another thousand bulbs and now the Spa is approached through a yellow carpet of flowers and throw a sun-splash on the ground on the darkest of Irish spring days.

BLOCK MAKING
"Lucan is a nice little spot if only someone had thought of squeezing it together ….. " If was photographer Dermot Harry's epigrammatic contribution to our Lucan adventure.
By the time we had reached the "Tile factory" on the road to the Strawberry Beds in the Liffey Valley I was inclined to agree.
The "tile factory" run by Leslie Lathan, has, in two years built up the strength of its operatives to over one hundred workers.
Working around the clock (three shifts, day and night) it uses over three hundred tons of materials in turning out cement blocks to meet the demand of builders engaged in the present housing drive.
"How many blocks per day?" I asked.
A smile met the question, but no figure was given in answer.
Watching the machinery in operation I worked out an average of twelve blocks per minute.
Who says Lucan's newest industry is not pulling its weight in the drive for homes-for-everyone?

ALWAYS OPEN
Gayest splash to greet the eyes of the traveller through Lucan is afforded by golfer john Caldwell's service garage just west of the village proper and before one starts the slop towards the spa hotel.
"Open All Day, All Night, And All Week," reads the sign. And it reads rightly.
John hasn't any ideas for improvement in the town.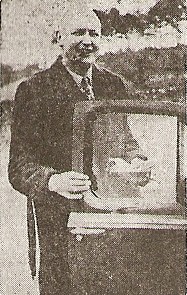 "Lucan is all right … we have our problems, but they are small ones. The biggest worries here fall to the seven Guards and their Sergeant who finds an all-year round traffic problem with the increasing stream of cars moving west and east through the village….."

Fair enough, I was not adding to the burden of the policeman's lot. If took myself to the bus stop by the Griffin and took farewell of Lucan through the upper deck window of the Dublin-bound bus. By November of that year, things looked different!