<< Back to the main Local History page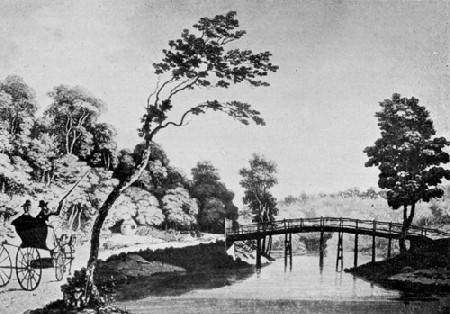 'Wooden Bridge near Hermitage' is the title of the above picture, and it comes from the Books Collection of South Dublin Libraries – Balls 1906 County of Dublin.

The drawing originates from the 1790s (Jonathan Fisher), when the road alongside would have been the main route from Dublin to places West – the line being from Chapelizod via the Strawberry Beds, Mill Bank, Weir View, St. Catherines, exiting at Mill Lane in Leixlip.

There appear to have been several such bridges along the Liffey at narrow stretches between Lucan and Palmerstown, giving access between the various mills along the riverbank. None of these bridges lasted terribly long – they were more of a stopgap while better stone bridges were being constructed.

At the time there was Sissons Linen Mill at Bleach Green, Turner's Iron Mill on the Hills Mill site, and also a Corn Mill close to the Shackleton's Annaliffey Mill site, while Palmerstown also had several mills – the Clarke family alone having none less than 6 mills in the area of Mill Lane in Palmerstown. There was further industry in the many quarries and sandpits along this stretch of river.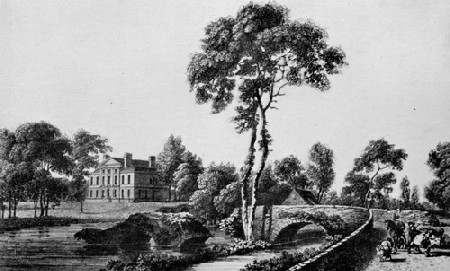 In the picture of Lucan House (same artist), just behind the ruined bridge, the roof of William Sissons' Linen Mill at Bleach Green is visible. The remains of this mill and mill race survive to this day, but are on private property.