<< Back to Main Local Interest page
The Holy Year of 1975
Lucan consisted of just one parish – St. Mary's, and there were 8 Masses every Sunday – 8, 9, 10, 11, 11.45, 12.30, 5.30, and 8pm.
Baptisms 1pm every Sunday, and Bingo at 8.50 (after evening Mass!)
Daily Masses were at 8am and 10am.

The new church extension with a very modern altar was generally welcomed – took a bit of getting use to for some.

Parish Debt – "At present the Parish debt is £75,000, of which £34,000 is due on the church extension and car park, £39,000 is due on the building of the Boys School, which have bneen completed last November.

Parish Pilgrimage to Rome organised for October, on the occasion of the canonisation of St. Oliver Plunkett.

Planned Giving for first week of 1975 - £354.00.

The Priests: Fr Donal Coughlan was Parish Priest, and Fr. Con O'Herlihy was the Curate, joined by a second Curate, Fr. Belton in August – the first time Lucan had two Curates!

Altar Boys Outing - The boys were treated to "The Man with The Golden Gun, with Roger Moore as 007, and High Tea afterwards!
The Team: Noel Geoghegan, Leo Egan, Ronan Kilroy, Donal Griffin, Fergus McMahon, Brian Buckley, Ronan O'Flynn, Colman Dungan, Owen Mullarkey, Morgan McStay, Joseph Furey, David Farmer, Ian Gibson, Stephen McStay, Tony Gale, Pat Toolan, Niall Doyle, Thomas MCCarthy, Kieran Fahy, Brian Doyle, Paul Condron, John Glennon, Thomas Murtagh, Diarmuid Butler, Michael Egan, Bill Minnock, John B. Hurley, Aidan Fleming, Fergus McMahon, Paul Crumlish, John O'Kelly, John Reidy, Tom Doody, Brian Roberts.

The Schools
Only two Primary Schools in St. Mary's Parish, Scoil Mhuire Girls, and St. Mary's Boys School, and of course St. Andrew's School in the Church of Ireland Parish.

The second level schools were St. Joseph's College, and Coláiste Phádraig CBS, and Lucan – extra accommodation being provided at both of these, and we also had a Vocational School – the forerunner to Lucan Community College.

Changes in School Management were announced.
Boards of Management would be formed.

School Sites in Lucan
"One such school site has been designated for the Newcastle/Lucan Road at Beaumont, right opposite the present entrance to Hillcrest Estate. The second school site is designated for Dodsboro near the present Woodview Estate".

DeValeras
Bean De Valera passed away in January of that year, and was followed by her husband, Eamonn De Valera, former President of Ireland in September.

Politicians
Cllr. Micheál Gannon, Labour, was the local Councillor, and the only local representative sending any political notes to Lucan Newsletter that year.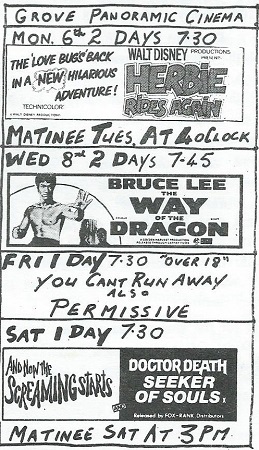 Lucan Co-Op
The Co-Op was still open to new members – membership being £1 for life!
Mr Joe Walsh was the Manager, and we were urged to "Save money by shopping at the Lucan Co-Op Stores".

Course in Boat Building
"Enjoy the Waterways this Summer by building your own BOAT at evening classes in Lucan Vocational School. Enrol now. Classes commence in May."

Unemployment
By March there were concerns of rising unemployment countrywide. Several factories had closed down and people were on short time, on three-day weeks.
Inflation was also troubling us.

Retirement do!
Hills Mill ran a function in Springfield for retired employees who enjoyed the night spinning and weaving many a yarn!!!
A 'Thank You' note was signed: Invisible Mender!

Lucan Credit Union
The local credit union accepted member number 905 in the week ending 17th January.

Traffic Lights
Provision in Estimates was made for Traffic Lights at Lucan Road/Celbridge junction and at the Chapel Hill / Lucan Road junction. A proposal that traffic lights be installed at the Dodsboro Road / Lucan Road junction was rejected.

Street Lighting
At the end of the year, arrangements were being made with the ESB to install 6 new lights at Ballyowen.

Lucan Red Cross
The local branch were busy raising funds for the children of Vietnam – "chaos and confusion shrouds the children of Vietnam and contamination covers the wanton land in both North and South Vietnam".

Lucan Community Council
The Community Council were an umbrella group for many things going on in Lucan at the time -Tidy Towns, Planning Applications, Bus Shelters, RTE Relays in estates, Cemetery Vandalism, Illegal Dumping, Playing fields and leisure activities. Community Week was 20th – 27th July. Joe Byrne, present Chairman of Lucan Festival was the P R O for the group.

Lucan Drama
The group produced 'The Field' in April, with 3 nights in the Convent Primary School Hall raising funds for various charities, and at the end of the month, they played to full houses in The Hitchin' Post, Leixlip, and in May the venue was Palmerstown Assembly Hall.

The Hatchery
In April, Planning Permission was refused to Lucan Green Homes for residential development at Lucan Poultry Farm, Dodsboro.
(This is where Woodview Heights is now!)

Local Sports Star
Young Martin Murray from Sarsfield Park was selected to play with Home Farm in the F.A.I. Cup Final.

Petrol
Petrol was very scarce in the spring of 1975, with queues forming at all service stations – most operating a ration system.

Summer
July saw a long spell of hot weather.
Lucan Festival was a great success.
There was Motor Racing on grass at Fonthill, raising funds for St. Patricks Hospital.
The Youth Club at the Hollow got a make-over.
Community Games, looked after by the Community Council, involved many local children.
We had a Mini-Budget! "We are all liable to meet with stringent economic measures in the near future..."
Lucan Community Council discussed forming a 'local Bank'!

Dublin Public Libraries
"The existing library is unsuitably housed and inadequate to the needs of the area. In the 1976 estimate provision has been made to replace it with a temporary pre-fab building from which a full time service can be given. Approval for grant purposes has already been given by An Chomhairle Leabharlanna for the acquisition of a site on which it is proposed to build a permanent 4,500 sq. ft library for Lucan".