Parishes
By 1983, the population of Lucan was growing on a daily basis. There were now two parishes – the old St. Marys and the new St. Patricks in Esker.
St. Patrick's Church was only a pre-fab at the time, while plans were afoot to build the present structure.

Planned Giving – first week of January
Lucan £889.41. Esker £910.50

Bingo – Esker Parish ran a weekly Bingo session on Monday night raising money for church funds.

Corpus Christi Procession was in Lucan Heights.

Saturday Evening Masses – The introduction of Saturday evening Masses was on the First Sunday of Advent 27th November 1983.
Times: St. Mary's 7.30pm; St. Patrick's 8.00pm.

Rev. Dr. Trevor Morrow arrived in Lucan to lead the Presbyterian congregation – still in the job!

CONCERN 24 hour Christmas Fast in Lucan, raised £10,150 by the end of January 1983.

Schools
There were two new schools in the area – St. Thomas' and St. Anne's in Esker, and planning permission was granted for another primary school in Dodsboro – now Scoil Mhuire.

Lucan BNS Band was up and running with Musical Director Eithne Donnell. The band later evolved into Lucan Concert Band, and is still going strong.

Proposed Amendment
Article 40 of the Constitution: The additional proposed amendment on which we were to vote read: The State acknowledges the right to life of the unborn and, with due regard to the equal right tto life of the mother, guarantees in its laws to respect, and, as far as practicable, by its laws to defend and vindicate that right.
Archbishop Dermot Ryan noted that the referendum was a civil matter, a democratic decision by citizens entitled to vote, on the fundamental law guiding legislators and courts. Dr. Ryan urged Catholics to vote "yes" in the referendum on 7th September 1983.

World Record
Local man Michael Moore broke the World Underwater Endurance Record at St. Mary's Hospital Pool, Baldoyle with a time of 78 hours 2 minutes. The timing devices was switched on by Charles Haughey TD, on St. Stephen's Day ('82). (Reported in January issue 1983)
£5,000 was raised for the hospital.

Planning & Development
Cooldrinagh Development was top of the list in 1983. The Defence Alliance was chaired by the late Val Rice. Local representatives prominent in this fight were Senator Brian Fleming (FG), and Cllr Liam Lawlor (FF).

Lucan Library – There was talk of acquiring a new premises in the Village, but the Dublin County Council informed us that there was no time scale.

Plans for Natural Gas to come to Lucan were at an advanced stage.

The Lucan Bye-Pass – A CPO was formalised for land for the Lucan Bye-pass. It was expected that work would commence in 1984.

The Priests Field – where Brookvale estate is now. The field was owned by Superquinn at the time, and they had received planning permission for development of a supermarket and a number of shop outlets, but this could not go ahead until the Lucan Bye-Pass was built.
As we know, Superquinn later sold the site and acquired another one in Esker.

23 Acres on Cruck House lands were acquired for residential development – the present Westbury Estate, and Superquinn and some of the Esker Schools are on the lands of Cruck House.

The Bush of Balgaddy disappeared. In May, the bush which was famous in local folklore was bulldozed out of it making way for new development.

Griffeen Valley Park was officially opened on 12th June by Cllr. Michael Gannon who was Chairman of Dublin County Council. The area covered 70 acres.

Water Charges were mooted at Council meetings several times during the year.

Sport
Lucan Harriers – Cllr. Michael Gannon, Chairman of Dublin County Council, turned the sod for the new track at Esker.

Lucan Pitch & Putt – the All Ireland Strokes Play Championship took place in Lucan in 1983.

Lucan Sarsfields opened their new Clubhouse, and dressing rooms with showers. 'Eddie Mescall and his merry men' were much acclaimed for the work. This old clubhouse is now well gone and replaced by the present modern building.
The Club also achieve All Ireland Scór success in 1983 with the help of Lucan Drama.

Other Sports Clubs reporting weekly were:
Hillcrest AFC, Beechpark AFC, Lucan Golf, Weston Hockey, The Bridge Club, Griffith Rangers FC, Lucan United FC and Lucan Badminton Club.

Employment
Out of a workforce of 1,146,000, 187,000 were unemployed.

It was lamented that so many former workers of Clondalkin Paper Mills had still not found work.

We were encouraged to 'Buy Irish – Create Jobs'.

Several trips to Newry were organised by many groups throughout the year – items were much cheaper up there for cash strapped shoppers.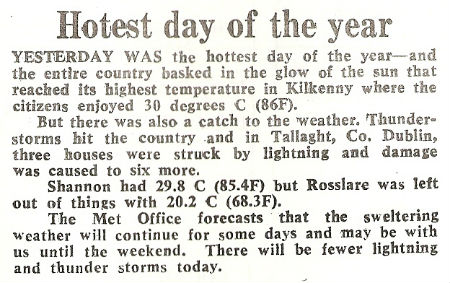 The above weather report appeared in the Irish Independent on Wednesday July 13th 1983, and was copied to Lucan Newsletter.

Entertainment
The Grove Cinema was showing ET for an entire seven days – night time and some matinee showings.

Lucan Drama - The big production of 1983 was The Playboy of the Western World.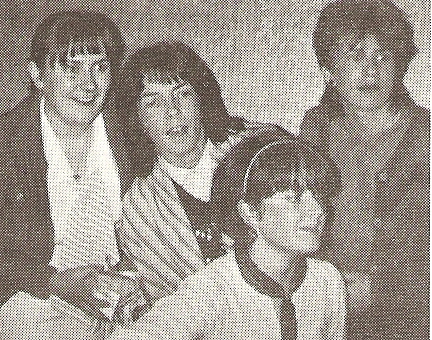 Village girls in the Playboy: Honor (Helen Morris), Sarah Tansey (Mary Ryan), Nelly (Carmel White), and Susan Brady (Lisa Clarke).

Sheila Corrigan, the present Lucan Drama P.R.O. was doing that job even back then!

The West County Musical Society produced The Mikado, under Musical Director Eithne Donnelly, at Maynooth College.

Fossett's Circus was recognised by the Arts Council in this year.

Lucan Community Council
Apart from keeping an eye on planning and other local issues, they now had the Community Centre up and running (now Lucan Sports and Leisure Centre), and a playgroup and mother and toddlers group were organised there.

An annual Community Week was a very popular event at which a Lord Mayor of Lucan was elected. This was a fundraising event where the various contestants raised monies for different charities.

In 1983, the outgoing Lord Mayor was Denis Gilligan (RIP), and the three contestants for the incoming Mayor were Martin Keegan (RIP), Tommy McCabe and Sean Murray (RIP). Martin Keegan became the Lord Mayor of Lucan for 1983 – '84.

Lucan Historical Society
The group held talks and outings regularly on topics from trams to mills, and anything else to do with old Lucan. The Shackleton Lantern Slides were a popular feature at the time.

St. Vincent de Paul – St. Mary's Conference
They were very much in demand – the main things they required at this time were pieces of furniture!

Around the Village
The first 'hole in the wall' – AIB introduced self service banking to Lucan with its Banklink machine.

A new Computer Shop in Lucan Village was advertising jobs for people familiar with the Sinclair, Commodore and Oric range – brands long forgotten in today's world of technology.

The Coffee House – interest was expressed in restoring the Coffee House – as we all know it was left to ruin and vandalism and finally demolished in 1984.

The Annual Garden Fete was held at the Old Rectory – a very popular local event.

New Groups (formed in past 10 years).
Lucan Information Centre now CIC.
Esker 142nd Scout Troop
Esker Summer Project
Esker Friends of the Elderly & Disabled
Lucan Toastmasters
The No Name Club
Comhaltas
Ceili / Irish Dancing Classes in the old VEC with Niall McKelvey.
They along with all the older well established groups for young and old made up Lucan of 1983.

Mary Mulhall