These photos were taken by the late Noel McConnell on Tues 8th Aug 1950, and found their way to us via his nephew, Alan Higgins, who incidentally was involved with Lucan Newsletter in the very early days.

The caption on the back of one of pictures is:
"A car smash between a Ford and an Austin. The driver and passenger of the Ford were taken to hospital in the Fire Brigade Ambulance".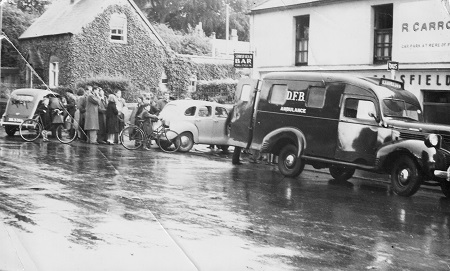 The accident took place on a very wet day, at Bob Carrol's corner (where Courtneys is now), and in the background is the ivy clad Schoolmasters House, with the chimneys of Cannonbrook Cottages just visible behind that. Dublin Fire Brigade Ambulance is in the foreground – quite different than today's vehicles!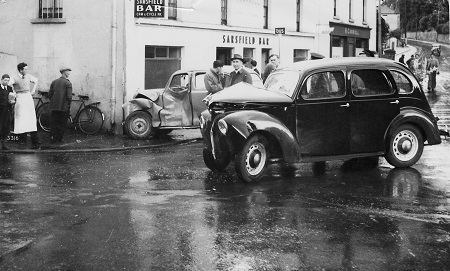 Both pictures show locals looking on – I wonder can anyone be identified at this stage!

Any information to: marylucannewsletter@gmail.com