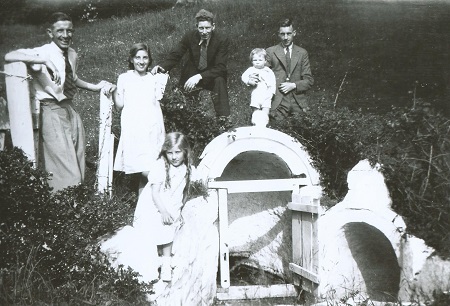 The above heading may not mean much to newer Lucanians, but will register with many of the oldies immediately! Some will be amazed that they pass this spot regularly on their walks through Lucan Demesne and St. Catherines.

The wells are found on The Black Avenue – a long lane which runs between Lucan and Leixlip – entering at Coldblow, on the Clonee Road, and exiting at The Mill Lane in Leixlip.

This photograph was taken in 1936, by Lucan woman May Vallom, and shows from L-R: Phil Brady, Maura Cormack, Pauline Cormack, Paddy Lannigan, Ollie Lannigan and Paddy Brady. No doubt, it was on a Sunday when the men were attired in their suits.

As the picture shows, the wells were white washed and kept in good condition back then – sometime later they fell into disrepair.

Not much is known of the history of the wells but Weston St. John Joyce in The Neighbourhood of Dublin (1912) wrote:
"The wells of St. Catherines are situated along a lane known as the Black Avenue, which forms the county boundary. These wells are protected by stone canopies. The larger well was provided with a wooden door and adorned with a head of modern appearance. It was used for drinking purposes. While the smaller well has for generations enjoyed a reputation for a cure for sore eyes, it is said that neither well has ever been known to run dry."

As a regular visitor to the Black Avenue in the late 50s/early 60s, (While visiting Granny in The Mill Lane in Leixlip, us children got sent for walks up there while the grown-ups talked!), I don't recall the wooden door still being present, and I think that the lady's head was broken, but there was a metal cup attached to the wall by a chain, and from this the passer-by could sate his thirst.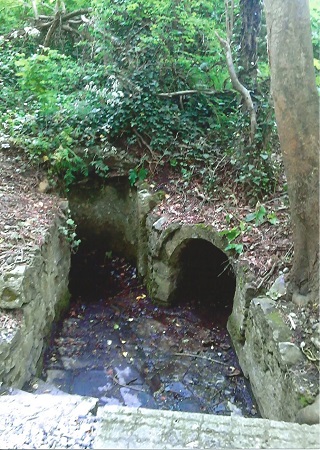 This is the present day St. Catherines Wells!
The good news is and we have it on good authority that Fingal County Council hope to bring the site back to its former glory. Local photographer, May Vallom will be responsible for a big part of that project with her 1936 photo, which thankfully has survived

What an interesting picture making a fitting end to Heritage Week!

Mary Mulhall