<< Back to Main Local Interest page
Some weeks ago, we carried a picture of the men in their Sunday best, on the steps of the Coffee House. This week, it's the ladies turn at the Coffee House!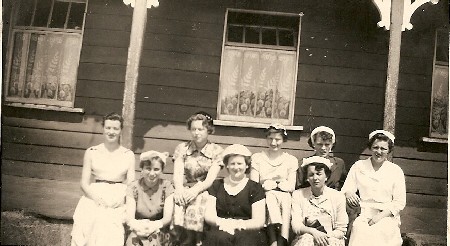 In the photo from left to right are: Ann Reid, Kathleen Speight, Prim Clinton, Joan Daly, Patsy Reid, May Roberts with Nancy Clinton just in front, and Rita Weldon.

The height of summer fashion, the picture may well have been taken on the way home from Mass in St. Mary's. Most are wearing hats, some even gloves, and as those of us from the dinosaur era know, up until after Vatican II, women were not permitted to enter a church without their heads being covered.

Thanks to Prim Dempsey who brought us the photo.