<< Back to the main Local Interest page
We received a rather nice letter recently from Ed and Marlene Toner of New Jersey. In it they complimented us on Treasures of Lucan – they had just recently received a copy. They also sent us an article from The Irish Echo about how they met – read on:
Ed, a pilot, came to Ireland nearly fifty years ago to fly the new Lockheed Super Constellation for Aer Lingus – known back then as Aerlinte Eireann. It was a time when the first Irish operated trans-Atlantic route was in its infancy. The airline had four of these legendary planes, and although they had cabin crew, none of the Irish pilots were trained to fly these models.
Ed had served as a pilot in the U.S. Navy, and afterwards, he decided to become an airline pilot. He secured work with TWA, and was trained on the Lockheed Constellation. In 1958, recession set in and there wasn't much work for these pilots, so when the opportunity arose to become a co-pilot working from Ireland, Ed jumped at the chance.
He recalls the names of the four 'Connies' – Saint Patrick, Saint Brigid, Saint Brendan and Saint Columcille.
On the nightlife in Dublin:
"On my second crew rest layover in Dublin at the Royal Hibernian Hotel, I decided to check out the nightlife at the Metropole. I picked up a pint of Guinness, and looked over the scene on the dance floor. It was all new to me. The young men sat in a cluster on one side of the floor, and the young ladies on the other. A few couples were dancing to a live Irish Band. I had never seen so many pretty girls looking for a fellow in my life!
I was not much of a dancer, but one bright eyed colleen looked exceptionally appealing, and the band played a slow one so I approached the group and asked her if she would like to dance.
She nodded, stood up and we danced. I struck up a conversation with her, bought her a Babycham, took her aside and we talked and danced and sipped. The place closed up at about 11 o'clock.
I asked her if I could see her home. We went outside and she told me the busses had stopped running. She had no way to get home. I asked her if I could take her in a taxi, and she said yes, thank you.
She told the driver to take us to Lucan. I had no idea where Lucan was, but it turned out to be an eight mile drive. When we got there, she stopped the cab at a bridge, and told me goodnight, she lived across the bridge.
I held the cab, got out, and asked her if I could write her and she gave me her name and address. Her name was Marlene Greene."
Not only was he impressed by Marlene, but he thought her home was "huge, like a mansion."
The couple wrote each other across the miles, and saw each other when Ed was in Dublin. Soon Marlene brought Ed home to meet the family, and he discovered that her home wasn't as big as he'd first thought. It was one small house in a row of twenty – No. 2 Weir View!
After 12 months, Ed's Irish contract was up, and he was jobless. Worse still, he couldn't see Marlene! Eventually, he got a job with North American Aviation based in Los Angeles. Marlene was still over 6,000 miles away, and there were no phones in Weir View.
Ed explained: "I decided to propose to Marlene by mail. She said yes by mail. I sent her a one-way ticket, and she arrived - on a Lockheed Constellation!"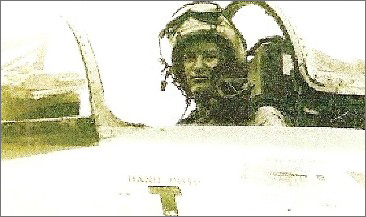 And they lived happily ever after…
The couple have six children – Eamonn, Patrick, Deirdre, Eileen, Timothy and Kevin. Would you believe Patrick was baptised 'Patrick Sarsfield Toner ' – I've always thought you can take people out of Lucan, but you can't take Lucan out of people!
The couple also have eight grandchildren, and a great grandson.
Marlene still has plenty of family around Lucan – many readers will know her sister Tess Greene who works in our Parish Centre
Mary Mulhall