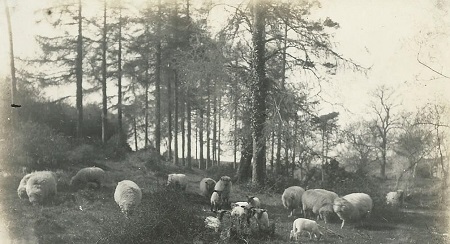 All in the April evening
April airs were abroad;
The sheep with their little lambs
passed me by on the road……

The above image is mindful of Katherine Tynan's beautiful Easter poem – Sheep and Lambs.

The inscription on the back of this photograph reads: 'Spring - Dodsboro Wood 1933'. The wood was situated in the area of the present Millstream Road and Woodview Estate, and bordered Lucan Golf Club and the old Celbridge Road.

It was of a time when Lucan was regarded as a rural village on the very outskirts of Dublin, a far cry from the built-up area of 2016. Visitors to the Spa and the Demesne would have enjoyed many such views on their travels, the trundle of the passing tram, and the odd motor car, the only intrusion into this otherwise quiet idyllic setting.

Photo by Holly Exley who lived in Dodsboro, very close to this wood back then.

m.m.