Not too long ago, a reader wondered if we had any photos from the Drill Displays which were held annually in the Girls School, Lucan.

Every June, Ms. Medlar, the dance teacher would have all the classes from 2nd to 7th organised to perform one novelty dance and an Irish dance or drills, to entertain the parents and friends outdoors on the school playground.

Costumes were often made from crepe paper, and light colourful cottons – the Nuns ever busy sewing in every minute of spare time. Occasionally, a dressmaker took on some of the work.

Nearing the big event, the classroom windows surrounding the yard were 'whitened' out – think it was the same stuff used to whiten runners which was put on the windows, to provide some changing room privacy. Tiered seating was installed on two sides, and fold up chairs placed in rows on another.

The upright piano was wheeled down the steps to the yard, where the pianist took her place and we were away.....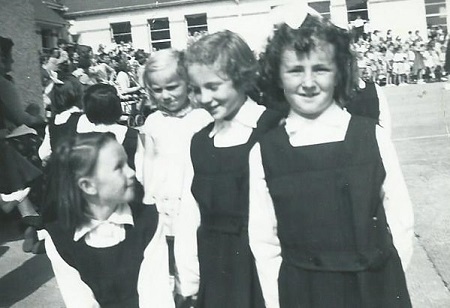 1960 – Second Class pupils (L-R) Marie Tutty, Mary Nolan, Patricia O'Shaughnessy, with three-year old Anna Nolan looking on.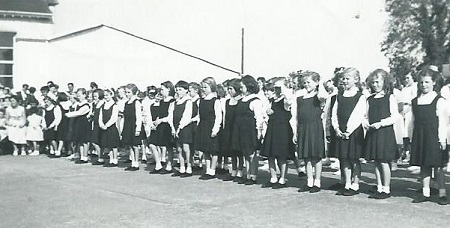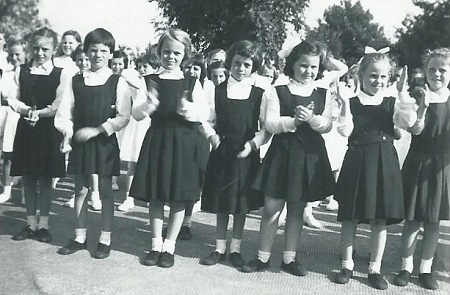 I960 – The finale with 2nd Class in the front line – included are Sheila Crean, Ann Quinn, Monica Byrne, Breda Murphy, Mary Nolan, Marie Tutty, Martina Malone, Marie Page, Rose Stapleton, Mary Casey, Josephine Flynn, Irene Sullivan, Mary O'Driscoll, Marie McAuley and Rose O'Neill.

Drill Display 1962
Alice in Wonderland with Josephine Flynn playing the Mad Hatter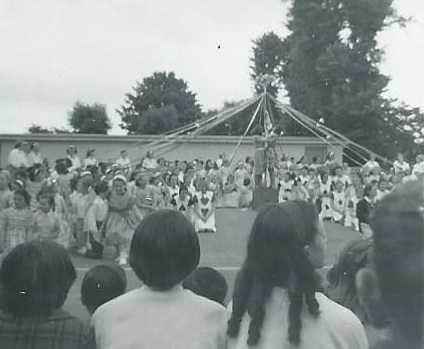 A Maypole was the centre piece of the 1962 finale