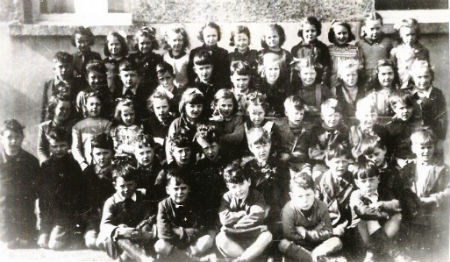 Front L-R: Paddy Brady, Eamonn Kelly, John Kavanagh, Seamus Malone.

2nd Row: Dessie O'Brien, ?, Eamonn Lacey, Arthur Speight, Paul Bevan, Frank Murray, Pat Howlett, Tommy Collins, ?, Kevin Barr.

3rd Row: Bunny Conway, Breda Kane, ?, Rita Beck, Una McCullagh, Mary Flood, Eileen Buggle, Michael Buggle, Tom Malone, Pat Halpin, Ned Gough

4th Row: Jimmy Greene, Paddy Kilduff, Joe Colgan, Noel Gavigan, Michael Reilly, Sean Kilduff, ?, Ann Marie O'Hara, ?, Margaret Sheridan, Elsie Collins.

Back: Phyllis Cullen, Vera Lawlor, Rita Farrell, Ann Daly, Patricia Cullen, Nuala Behan, ?, ?, Lily McGrath, Rosaleen Galligan, Mercriss Kelly.

The photo was taken in the days when the boys attended the girls school up to the end of First Class, when they parted ways, and the lads went to the boys school.
Thank you to Frank Murray for sending in the picture.