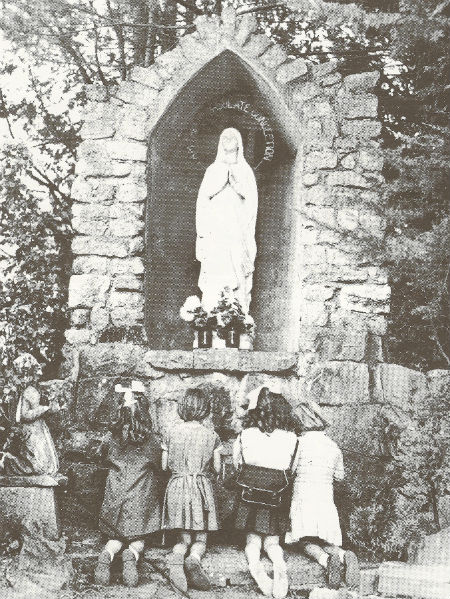 "A little prayer on the way to school, at the Grotto, Lucan Church Yard".
Taken in 1958, from left to right, the little girls are Margaret Tutty, Christine Ward, Jean McAuley and Ann Fitzgerald – all from Dodsboro. It was customary back then to stop here on the way into school each morning.

In our issue of September 15th 2013, the Editorial recalled the history of this old grotto, which was built in 1931 by local men William Kilduff and Patrick Feeney.

The statue of Our Lady was donated by Mrs. Bellew, while the local forge made the halo. The wrought iron and wood kneeler was made by Jimmy Byrne who was commissioned by Mrs. Maisie Walsh of Lucan Co-Op. Another local family donated a seat to sit and pray.

Over the years, many people helped maintain the site, providing fresh flowers and planting shrubs, and painting the statues as required.

This old grotto was removed to make way for the modern parish center buildings in the church grounds in the mid 1990s, and the statues were stored safely over the years, while the parish figured out how best to provide for a new site.

St. Mary's new Prayer Garden incorporates the original statues of Our Lady and St. Bernadette – all repaired and now painted white. These days when you want to erect anything, planning permission comes in to it, and the end result is having very old and very new sitting side by side, complimenting each other in this case.
As part of the 60th Anniversary of St. Mary's Parish Celebrations, the Prayer Garden was blessed by Bishop Ray Fields on Saturday next, 26th October 2013.
A link to the past Three very special young boys planted a tree on the night – all descendants of William Kilduff, the stonemason who built the 1931 grotto – (L-R): Martin Kilduff (great great grandson), and Joesph and Matthew Fitzgerald (great grandsons). Also in the picture (L-R): Joe Walsh, Deacon in Divine Mercy, R. Philip Bradley, Bishop Ray Field, Fr. Peter O'Reilly, and Fr. Alex Conlan.

And …… fifty-five years on, it will still be possible to "say a little prayer on the way to school"

m.m.