<< Back to Main Local Interest page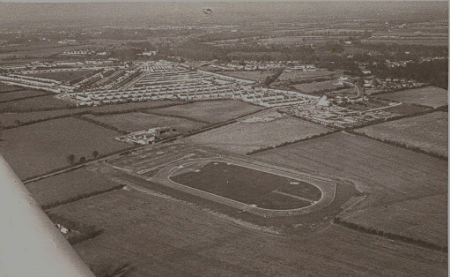 This aerial view shows the newly created athletics facility long before many of the surrounding housing estates appeared.

The Lock (Newcastle) Road is visible, and on the site where Superquinn is today, is Blake's Cruck House and Farm. Across the fields behind Cruck House is Hillcrest Estate, and St. Thomas' and Anne's School are also visible, while St. Patrick's Church was under construction. It would be complete in October 1985.

Not a sign of Lucan Community College, or even the road – Esker Drive – which leads across to Arthur Griffith Park. It was a long walk around the roads from Arthur Griffith Park to the schools, and many will remember crossing the fields for a shortcut, which was handy in dry weather, but the pathway could get very muddy in wintertime.

Twenty-eight years of development have seen great changes to this relatively small area.
m.m.