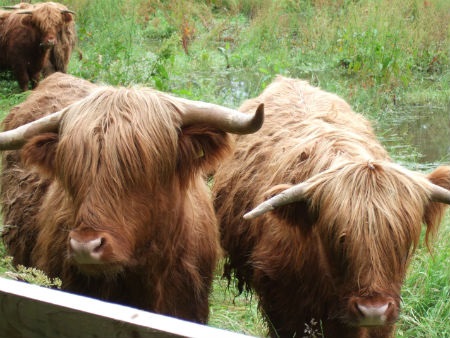 On Monday 9th June, 15 Highland Cattle arrived from the hills of Co. Wicklow, to take up residence in St. Catherines, and what a picture they make.

Not tall animals, they are having interesting times exploring their new habitat, and in the very long grass, the visitor might have trouble spotting them – spare a thought for the Fingal Parks workers who have to count 15 heads every morning!

Take the kids and your camera, and you'll have a great time!

These cattle are one of the hardiest and oldest breeds on earth – well able to look after themselves in all kinds of weather. All they need is access to water and a good supply of grass with lots of clover and other nice things in it.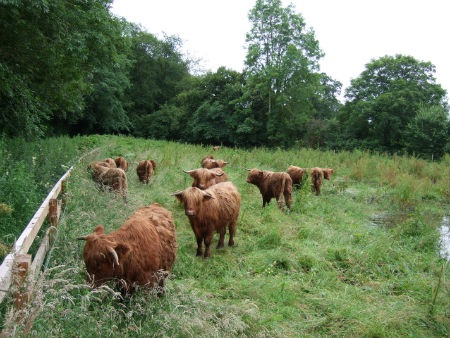 The breed originate in the Highlands of Scotland – mountain cattle, and the very long undercoats provide warmth in the winter, while the outer coat sheds water. Mind you, you'd be tempted to brush the hair out of their eyes! Curious creatures, they'll likely make their way over to the fence as soon as company arrives.

As far as I'm aware, sugar beet was the last crop planted in this area of St. Catherine's. The summer after that we had the famous 'poppy field', and a couple of years later following waterworks construction on the site, we had a brilliant display of wild flowers. Both these scenes – the poppies and wild flowers - happened because the ground had been disturbed, and many of the seeds dormant in the ground for years came to fruition.

Back in the 1940/50s, Professor Christopher O'Connor – one of the few Catholics to get a dispensation to study at Trinity College - had the land, and some rather exotic and sometimes poisonous plants were grown. Among them were Peppermint, Poppies (for Opium), Carnations and Bella Donna (Deadly Nightshade). The plants were reaped and sent to 'Antigen', a drug manufacturing plant in Co. Tipperary, with all having to be accounted for from start to finish.

There were also Mulberry Bushes on the site, and Mr. T.W.H. Kingston from Rathgar regularly collected the mulberry leaves to feed his silkworms. Their cocoons would then be sent to the monks in Mt. St. Joseph's Abbey, Roscrea, who produced silk threads. These were then used by the likes of Ib Jorgenson for the Irish fashion industry. For many years, Professor O'Connor was a lecturer at the College of Pharmacy, and took his pupils here to view the plants.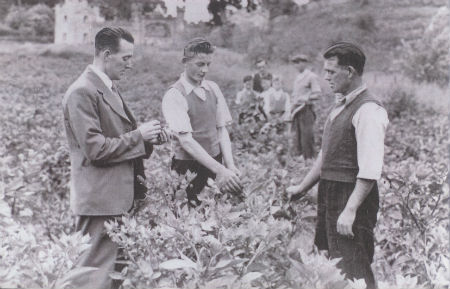 Men at Work:
On the left is Professor Christopher O'Connor who owned the land. On the extreme right is his older brother, Dick who managed the property, and amongst the group of boys is Peter Brady, who worked there as a young lad. Note the arched gateway in the background.
Teatime at the Lodge
The O'Connor family enjoy a summer teatime at St. Catherines, in 1951.
Seated from left are May O'Connor, (? unknown), Dick O'Connor, Willie McNamara, Nora O'Connor and baby Charlie O'Connor, son of Dick and Nora, in his pram.

It says a lot about Lucan that we're talking about cattle arriving in the Demesne – time was when no matter which roadway you took out of the place, you were sure to pass a herd of cattle in several places.
But! I don't think we've ever had Highland Cattle in the place before now!

Mary Mulhall