<< Back to Main Local Interest page
Among the flowering brambles, buttercups and clovers presently in the Demesne are a number of easily identifiable large flowering wild plants:

Rose Bay Willow Herb or Fireweed (Epilobium /Chamaenerion angustifolium)
This plant has cerise flowers carried on 11/2 metre tall spikes. These are found mainly along the railing on the left side near the weir coming from Lucan. There is a particularly grand display at the end of that railing at the top of the hill on the left side.
Among the garden plants belonging to this family are Fuchsias and Evening Primroses.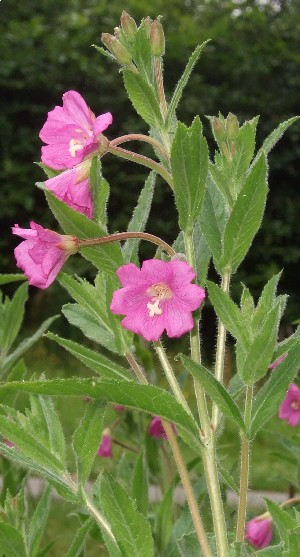 Broad-leaved Willow Herb (Epilobium hirsutum)
This is a smaller plant than Rose Bay with pale cerise flowers carried along the stem rather than in spikes.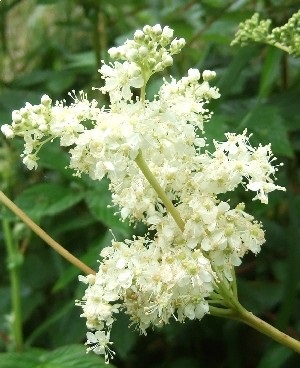 Meadow Sweet (Filipendula ulmaria)
This plant has creamy sweetly scented flowers with a feathery appearance borne on 11/2 metre stems. They can be seen along the Liffey Banks and various other places in the Demesne.
Among the garden plants belonging to this family are Plums, Peaches and Pears.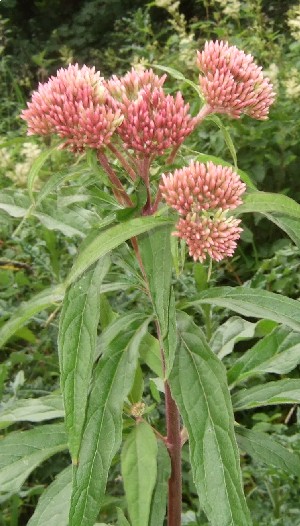 Hemp Agrimony (Eupatorium cannabinum)
This plant is approx 1 metre tall with pinkish purple flowers carried at the top of the stems in compact clusters. They are not very widespread in the Demesne but can be seen on the right side before the weir - a member of the daisy family (Compositae) and are common in damp places by ditches, streams and rivers as is the case here.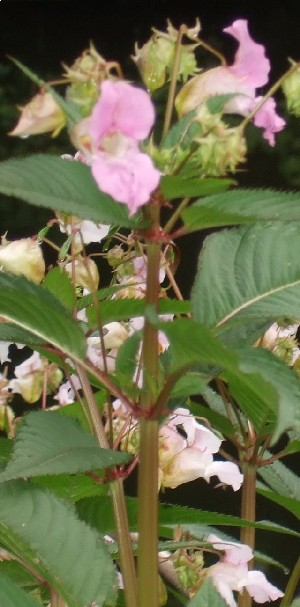 Indian Balsam (Impatiens glandulifera)
This is a very large plant approx 2m tall with large pink flowers in clusters. These plants are seen near the weir in the island after where the Liffey has divided and further along the riverbank after the weir. In some parts of the country this species is regarded as an invasive plant and efforts are ongoing to eradicate it. (ref Irish Times w/b 4 July 2011)

All these plants can be viewed within 500m from the Lucan entrance to the Demesne.

Big thank you to our local expert Michael Barrett for bringing us up to date with the blooms.