<< Back to Main Local Interest page
It's that time of year when we take to delving in to our archives, to find some long forgotten pieces that will surely interest our readers. We don't have many copies of early editions, but from what we have, we have just realised how far Lucan has come in the past 55 years, since the first issue of Lucan Newsletter appeared in February 1967.

In 1967, there was only one parish in Lucan – St. Mary's . The church building itself, was the original footprint from 1840. The Presentation Sisters looked after the Church – cleaning, providing flowers from their garden, training altar boys, and also training and playing the organ for the choir.

In the village itself, were St. Andrew's Church of Ireland, Lucan Presbyterian Church and Lucan Methodist Church .

There were three Primary Schools – Presentation Girls N.S., St. Mary's Boys N.S. and St. Andrew's Church of Ireland School .

There was just one Secondary School – 'PCL' were the letters intertwined on the crest of the girls Presentation Convent Lucan . The name, 'St. Joseph's College' came into being when the present building was completed in 1969.

The Tech – Lucan Vocational School on Esker Hill, catered for boys and girls up to Group Cert, in 1967.The school sat its first Leaving Cert in 1969.

1967 was the year when Free Secondary Education was introduced by Minister Donogh O'Malley

In 1967, the population of Lucan was just over 2,000 souls!

There were no Shopping Centres – the various village shops provided all our needs, with fish available on Fridays only, and ice-cream only available in Summer!
And we went to 'Dublin' as opposed to 'Town', a couple of times a year…..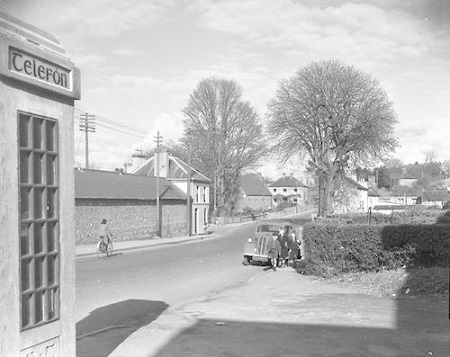 In the village itself, we had the Garda Barracks with a great Horse Chestnut tree out front, often referred to as the Policeman's Umbrella, as the Garda on duty could take shelter from the elements under its leafy branches.
Lucan had been an R.I.C. (Royal Irish Constabulary) village, and the building was still referred to as the 'barracks' in 1967.
Looking east, the Garda Barracks is just out of sight on the right of this picture, but the big Chestnut tree is standing tall.

The Royal Bank of Ireland stood where the AIB Bank is today.

McCarthy's had the Post Office , on the corner of The Square/Main Street. Inside was a public phone booth, while the other public phone kiosk was just along the road between the Garda Barracks and Primrose Lane. (see photo above).

No Traffic Lights, No One-Way Streets, No Burglar Alarms anywhere – not on business premises nor schools…….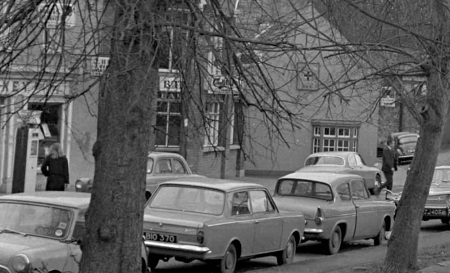 This photo shows the traffic along the road between the Griffeen and the shops - plenty of Anglias, Prefects, Cortinas, Morris Minors and Minis about.

The petrol pump belonged to Lynch's who had a drapery shop at that site. Giltraps Shop, just a few yards away on the corner of The Square/Main Street, also had a petrol pump outside.

The Picture House (The Premier Cinema), was refurbished and renamed The Grove in 1967 – Films of the year included The Graduate, To Sir with Love, Bonnie and Clyde……….

The only 'By-Pass' was the High Road running from the junction of Chapel Hill to the Garda Barracks since 1837.

Only one GAA Club – Lucan Sarsfields , founded in 1886.
Two Soccer Clubs – Lucan Celtic and Dodsboro United
Lucan Pitch & Putt Club was 4 years old, while Lucan and Hermitage Golf Clubs were well established.

The bigger employers were Shackletons Flour Mill, Hills Woollen Mill , and CPI (Concrete Products of Ireland), and Cromers Builders .

The Parish Hall , formerly the old boys' school, catered for a Youth Club, and hosted weekly Bingo, and from time to time Teen Talk – at which Bunny Carr presided on one occasion.

1967 saw the beginning of modern housing estates with Hillhouse (later Lucan Heights), and Esker Lawns leading the way. Sarsfield Park was still under construction being completed in 1968.

The country was still on LSD - £.s.d – Pounds, shillings and pence!

Lucan Newsletter , with just 12 pages, cost 2d in 1967.

(Photos from Dublin City Archives)