It's hard to believe ten years has passed since this event, which took place on Sunday 21st May 2000!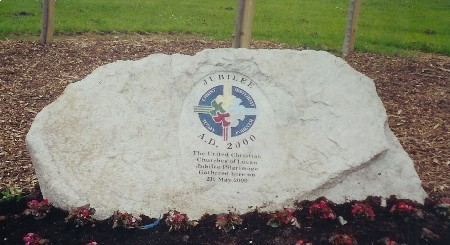 It was a day when all football matches and other events were cancelled, and every parish in Ireland was urged to celebrate the millennium with a pilgrimage to some 'holy' place in their area.

Here in Lucan, it was decided early on in the year that St. Finian's Ruins in Esker would be the destination for all the groups in our area.

It was surprising what unfolded! At the outset, representatives from all the Christian Churches in Lucan came together – as it turned out, there were seven of them:

St. Mary's, Lucan
St. Patrick's, Esker
Divine Mercy, Balgaddy
St. Andrew's Church of Ireland
Lucan; Lucan Methodist Church
Lucan Presbyterian Church
Lucan Quakers were also represented although they do not have a meeting house in Lucan.

The committee delved into the history of the place, only to realise there had been seven religious establishments in Esker back in the middle ages when it was known as 'Esker of the Seven Churches'.

Eventually, it was decided to lay a commemorative stone at the spot, it would be surrounded by seven elm trees, and beneath it, a time capsule containing letters, rolls, photographs and other documents from the various churches and schools of the area would be buried. South Dublin County Council organised the stone and planted the elm trees at the spot.

The big day arrived, and the weather didn't disappoint. On a gloriously sunny Sunday, each group began its journey to Esker.

St. Mary's balloon carrying pilgrims departed from their church, meeting up with the other village churches along the way, and made their way up Esker Hill. Thankfully, Brenda's Restaurant, which was there at the time, gave out water to thirsty walkers.
The group from St. Patrick's in Esker brought something very special on their walk – the bog oak cross which was found while digging foundations for St. Anne's School. It is thought to have come from one of the religious establishments of Esker of old.

From Balgaddy / Lucan South, came cheerful pilgrims waving their parish banner.

All converged on the parkland opposite St. Finian's Ruins at 3.00pm, where an ecumenical prayer service was offered for world peace. Then followed the blessing of the stone and elm trees.

The inscription on the stone reads:
The United Christian Churches of Lucan Jubilee Pilgrimage gathered here on 21st May 2000.

On such a beautiful summer's day, people had brought picnics and refreshments, and many stayed around exploring the area of Esker of old, where many fine features attest to the past, among them King John's Bridge – reputed to be the oldest bridge in Ireland!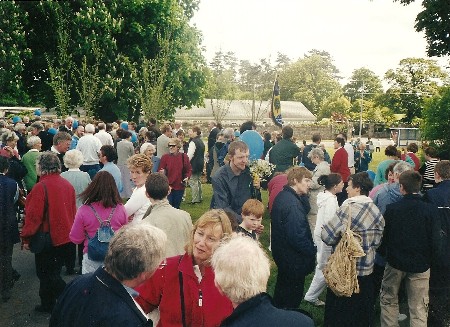 Why not visit the area this weekend, and show the children what we were up to ten years ago.

Mary Mulhall