<< Back to Main Local Interest page
From the Archives……..
26th November 1972.

The following information was obtained from Mrs. Ennis by a class of schoolgirls, from Scoil Mhuire GNS.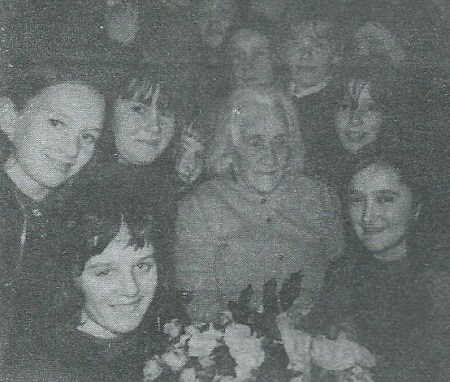 Born in 1881, Mrs. Ennis was the eldest of a family of thirteen. She went to the Convent School with her sisters, while her brothers went to the Boys School which was in the Church Yard.

At 14 she went to work in Hills Mill for 3/- per week. The work was hard; she started at six in the morning and worked until six in the evening. Because of the big family she had to help with chores like cleaning, cooking and fetching water before she went to work.

Mrs. Ennis recalled going to the pictures in Dublin at the "Maro", Mary Street. It cost 4d to get in and she went on the tram. She also went to dances in the Coffee House, and when she was 15, was chosen "Belle of the Ball" at a dance in the Spa Hotel.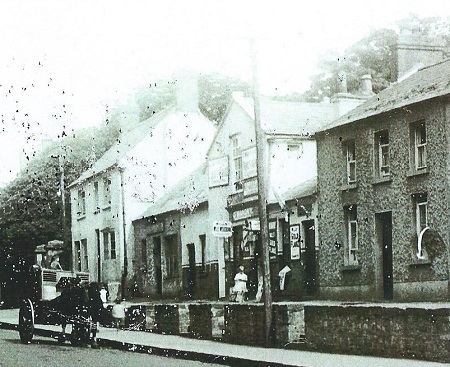 O'Mahony's Shop on Main Street

Lucan Dairy used to be on the Lock Road; MaryO' Mahony's Shop on Main Street sold groceries, meat and hardware; Giltraps was another shop.

She was married in Lucan Church, her husband Mick, came from Blanchardstown. On her wedding day she wore a long navy-blue dress and a little hat to match. Her wedding cake was the same as they are today, but there was no big hotel reception – the wedding breakfast was strictly a family affair.

During the First World War her husband and her son, Nicholas, fought in France, and her husband always carried a relic of the Little Flower to protect him. Both returned safe from the war.

Mrs. Ennis remembered Queen Victoria passing through Lucan in 1900 and also recalled Michael Collins coming here while on the run. He used to sleep in a hay barn.

Note: The Spa Hotel wasn't even built when Mrs. Ennis was born – the building of which was announced in 1891.

m.m.