<< Back to Main Local Interest page
If you were a pupil of Presentation Convent School, Lucan, exactly 100 years ago, you would perhaps be taking part in a 'Grand Concert' in aid of the 'New Extension to the Convent'.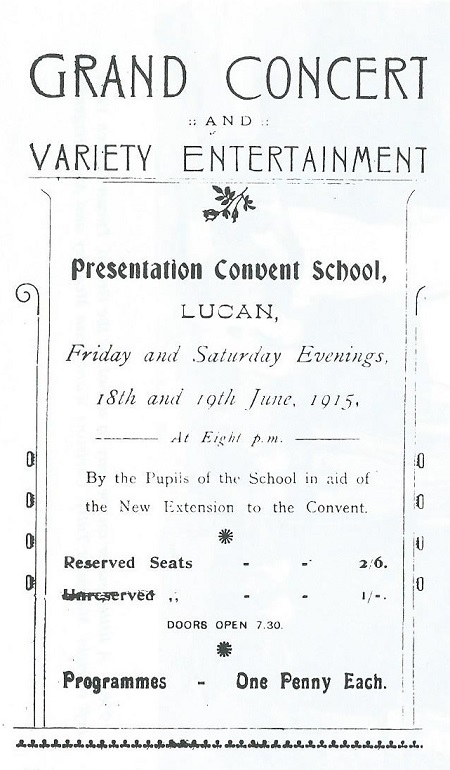 June 18th and 19th 1915 saw the pupils put on a variety show for their parents and general public, with reserved seats at a premium of 2/6 (half-crown), and non-reserved cost 1/- (shilling). These prices would have been regarded as quite high back then, but of course people would willingly give for a good cause.

The show began with a Prologue by May Vallom, the lady who is responsible for many photos of 'old Lucan', often reproduced in Lucan Newsletter.

The various songs, dances and sketches included names like Byrne, Whelan, Dagg, Murray, Collins, Kearns, Quinn, Doyle, McAuley, Harris, McCall, Fitzsimons, Behan, Kane, Oldham, and Rossiter.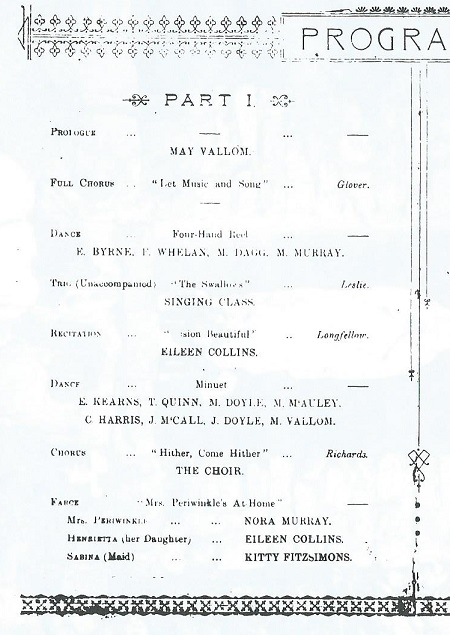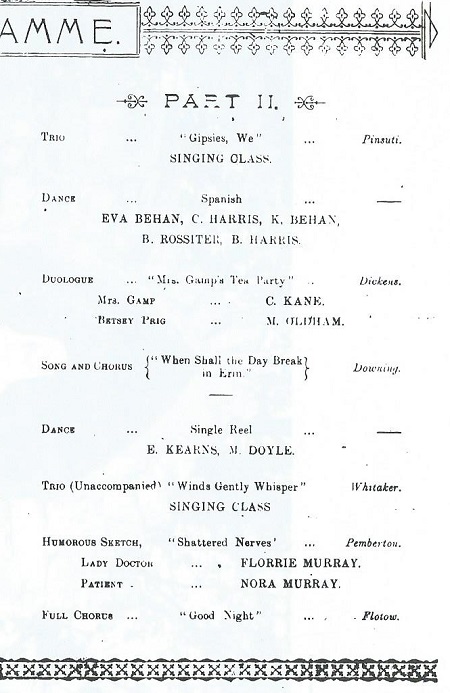 The concert most likely took place in the Assembly Hall, known today as the 'Halla Mór'.

The school building itself was less than 10 years old at that time, having been built in 1896 by local builder, John Cromer. It comprised of 3 classrooms and the assembly hall.

The year before the Rising, some of the songs – Hither, Come Hither, When Shall the Day Break in Erin, Winds Gently Whisper - were heard recently in Dublin at The Road to the Rising event.

Such a concert must have provided light relief for those families worrying about their loved ones away at war, some never to return. Looking at the family names on the programme, many would have had cause for concern.

The Convent extensions was built five years later, in 1920.

Known these days as Scoil Mhuire GNS, the school has a long history of concerts, and even 50 years after this event, Gypsy dances and Minuets were performed by pupils every June in the annual drill display. Who remembers ball gowns made from crepe paper?

Mary Mulhall