<< Back to Main Local Interest page
30th Anniversary in her 100th year

Sadie Conway nee Caples lived a very happy life in Chapel Hill along with Veana, Una, May (our late Mam), and Peggy under the watchful eye of sisters Rose and Kate McGovern, along with their beloved niece MaryJo. Sadie worked most of her life in Lucan Printing Works, printing the Non-Stop tickets and may other things.

She married Billy Conway in 1952 and lived in Coldblow beside his parents. It was a wonderful day for them both when they got their keys to number 13 Sarsfield Close. Sadly Billy only had a few short years there and passed in 1976.

But in true style Sadie picked herself up and founded St. Anne's Social Club. The ladies met each Monday for a chat. Once a year they took a day trip off to Avoca or maybe Arklow. Then she took them off to Lourdes. Fr. Conlon once said it took him a year to recover from all the laughing and then it was time to go again!

Sadie had a flair for writing poems and songs, and a song about Lucan was her favourite. She sang it many times in Chapel Hill, Bob Carrolls, or on the bus home from their day trips.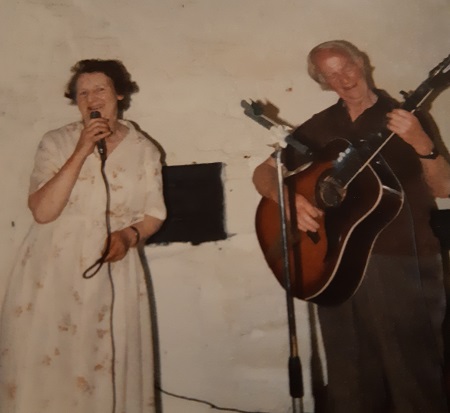 Lucan favourites! Sadie renders a song, accompanied by Joe O'Brien, of Sarsfield Terrace.

We do hope you enjoy our memory of a special lady.

From Patricia Barlow and Catherine Kelly (nee McNally), October 2020
Lucan
Lucan is a very pretty place,
as everybody knows
It's a truly rural little town,
through which the Liffey flows.

CHORUS
Then carry me back to the Lucan Spa,
there let me remain,
Among the meadows that I love,
down in the old Demesne.

If ever you are down that way,
drop in and see the mill,
It's there the best of Irish tweed
is made by Mr. Hill.
Chorus

And for accommodation
There's no place that can excel,
The Lucan Hydropathic,
and the grand new Spa Hotel.
Chorus

If ever city life you tire,
and feel not very well,
Drink nothing but the Spa water
and live in the new hotel.
Chorus

You talk of pretty maidens
and faith unto my mind
A finer lot of girls than ours
you will not easily find
Chorus

At noble sports and pastimes
sure Lucan takes the cake.
Show me football or cricket match
that Lucan could not beat.
Chorus

The pictures in The Premier
are always very nice,
And people show their gratitude
to Mr. Ronald Rice.
Chorus

The men in this locality
are steady, brave and true,
They tie strings of friendship,
which time will not undo.
Chorus

And when in Lucan
don't forget our Anna Liffey Mill,
Where Messrs. Shackleton
and workers cure all our ills.
Chorus