It really was summer, and Sr. Oliver took her 4th Class outdoors for their lesson.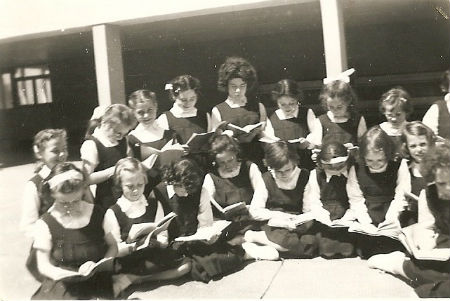 It may well have been National Book Week! Was there such an event back then?

Back L-R: Louise Martin, Kitty Foley, Dorothy Rafter, Marie Oldham, Rosaleen Carroll, ?, Mary Rogers, and ? Front L-R: Nuala Malone, Pauline Poynton, ? Nuala Farrell, ? , ?, Patricia Dignam, ?, ?

It was an era when the girls wore white blouses with their navy pinafore in the summer time. The blouses were replaced with royal blue jumpers during winter.

A curious thing was that at the end of May each year, those blue jumpers had to be parcelled up in brown paper with the pupil's name and class attached, and handed to the class teacher who placed all in a box and brought them to the Convent where we believed each jumper was inspected for holes, and repairs were carried out by the nuns over the summer holidays.

By the end of September, the jumpers were returned to the pupils, and all were ready for winter. Strange times!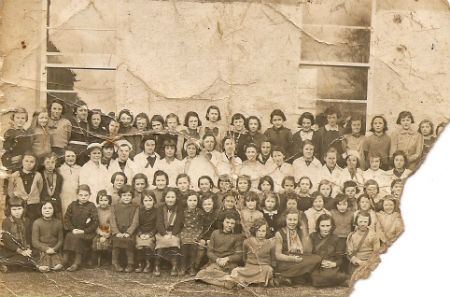 Old and tattered, our second picture was taken in the days before uniforms came into vogue in Lucan, and probably dates from the mid 1930s. Lots of the girls are wearing their sodality medals on ribbons, and the line of girls in white, is a cookery class.

I recognise lots of faces, but am unsure of names – there are Grahams, Flanagans, Kellys, Colemans, Buggles, Thornburys and even my own aunt, Tesie Corway (Eiffe) is in the very front.

If anyone can help, please drop a line to Lucan Newsletter or to Mary@lucannewsletter.ie
I can email a clearer copy of the picture if that will help anyone identify the pupils.
Thank you to Carmel Cassidy (Graham) for the picture.
Mary Mulhall