<< Back to the main Local Interest page
Just before our summer break, we carried a photo of 'The Croppies' – a local ballad group who were a big hit in the 1960s. In response to several queries about the group, Paul Howlett sent us the following: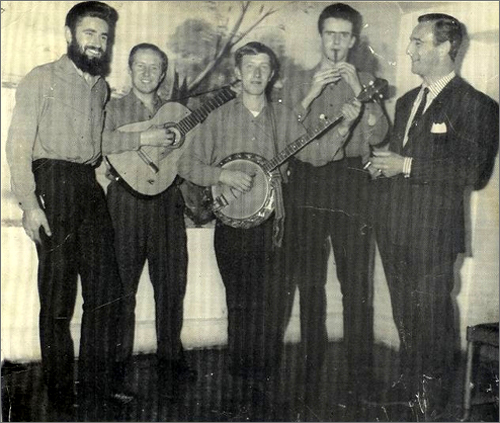 The group was formed around 1964 and was first known as 'The Lucanians'. The members were Martin Keegan, Mick Shanahan (Dixie), Matt Murray and Paul Howlett.
Sometime later the group reformed with new men Sammy Hewitt, Peter Phelan and Sean Óg McKenna (a brother of Barney of the Dubliners), along with Matt and myself. We became 'The Croppies' and had John Sheridan as our Manager. After some time, Sean Óg left and Paddy McMahon joined.
The Manager suggested we should make a record and he got in touch Billy McBurney of Outlet Records in Belfast and we recorded 'Dicey Reilly'. The record sold well around Dublin and got to number 6 in the Co. Galway Top 10. We then appeared on R.T. E. with Liam Devally and did background music and song for the film "See you at the Pillar". We also appeared at The Herald Boot Fund Concert in The Capitol Theatre, which was a great honour.
Following this we played all around the country – sometimes good and sometimes not so good. For example five people turned up at The Central Hotel in Mallow. Our best venues were Rye Vale Leixlip, Majestic Hotel Fitzwilliam Street, Parkside Hotel N.C.R. and the Spa Hotel.
Our mascot and very good friend was the late 'Little Joe', of whom we have very fond memories.
We were always grateful to The Dubliners for all their help, in particular to Ronnie Drew whose other claim to fame is that he slept in my mother's house in Weirview on one occasion!
At the end of the day, Matt left for Scotland and Sammy went solo and the rest of us decided it was time to retire.