Last summer when Lucan woman Joan Long went on her holidays visiting her son in Canada, she was more than a little surprised at what enfolded.

On visiting Vancouver Island for just one night, they checked in to a small guesthouse, and on signing the register, the landlady beamed at seeing the words 'Lucan, Co. Dublin, Ireland'.

The same lady was a descendant of the Scott family who had lived at Woodville in Lucan, back in the 1800s, and naturally she was curious to know if the house and estate still existed. Alas, it does not, being demolished in the early 1970s.

The lady presented Joan with copies of the old building – one from the front and the other from the rear.

Woodville, Lucan, Co. Dublin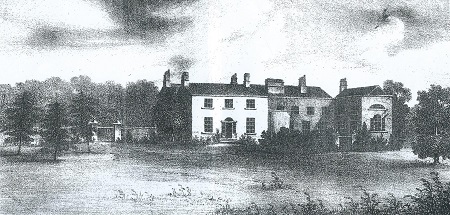 The inscription: Woodville - The Seat of Colonel H.S. Scott C.B. Drawn on Stone by E.H.Murphy.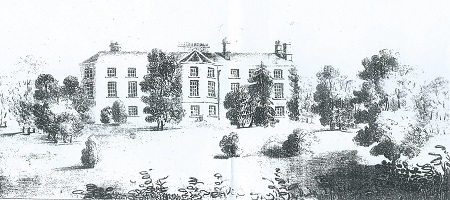 The property was situated on the site of Ballydowd Castle, just across the road from where Woodies is now, adjoining the lands of St. Edmundsbury. Around 1700, the castle was replaced by the grand house, and at that time was owned by the Right Hon. Henry Clements.

The Scott family were in residence in the mid-1800s. Sir Hopton Scott himself, enjoyed an illustrious military career, and he and several members of the family are commemorated on a plaque in St. Andrew's Church, Lucan.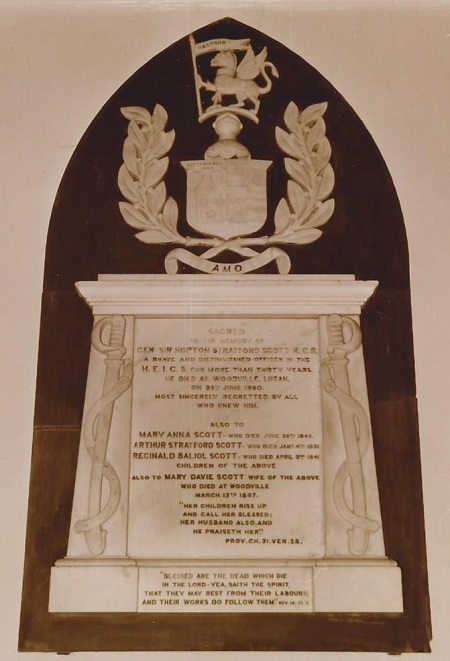 "Sacred to the memory of Gen. Sir Hopton Stratford Scott K.C.B.
A brave and determined officer in the H.E.I.C.S. for more than thirty years.
He died at Woodville Lucan on 23rd June 1860.
Most sincerely regretted by all who knew him.
Also to Mary Ann Scott. Who died June 28th 1845
Arthur Stratford Scott. Who died Jan. 4th 1831
Reginald Baliol Scott. Who died April 2nd 1841
Children of the above.

Also to Mary Davie Scott wife of the above who died at Woodville March 13th 1867.
"Her children rise up and call her blessed; her husband also, and he praiseth her."
Prov.Ch.31 Vers 28.

"Blessed are the dead which die in the lord. Yea, saith the spirit, that they may rest from their labours; and their words do follow them". Rev.14.13 v."

In another twist, the Irish Embassy in Poland got in touch with Lucan Newsletter some years back, when a descendant of the Scott family living there, sought information on Woodville and Lucan. Susan, one of Sir Hopton's daughters, married an army officer, and moved to Warsaw, where she is buried.

To cut a long story short, we were able to put Vancouver and Warsaw in touch with each other and hopefully the long lost relatives have much to discuss.

The Hamilton family were the last people in residence at Woodville. There were six girls and two boys. Eva and May Hamilton were artists of some stature and travelled extensively in Europe painting along the way.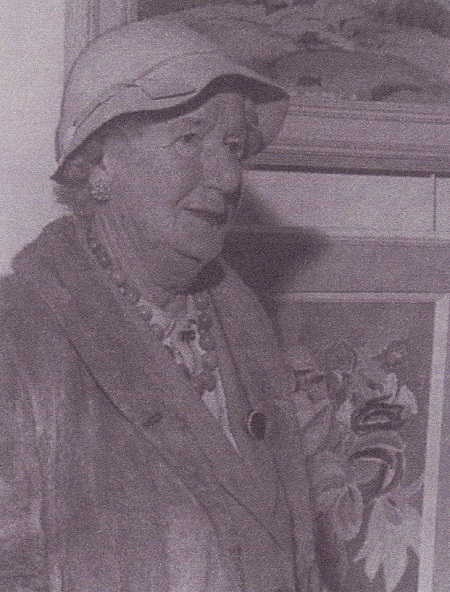 Letitia Hamilton at her exhibition in the Dawson Gallery in 1961

Locals will remember the Dixon family who lived in the gate lodge.
Woodville House was demolished in 1972, after the last of the Hamiltons passed away.

Thank you to Joan Long for the Canadian end of the story, and to Paddy McElroy, who lived at Willsbrook House where his father was the gardener in the 1950s, for the Hamilton information.

Mary Mulhall marylucannewsletter@gmail.com