<< Back to Main Local Interest page
Like taking out the decorations every year, memories of past Christmases are always evoked during the season.

For myself, Christmas really started on the 8th December – as children, we were unaware of the season of Advent!

8th December
An early memory is of being at Kitty Murray's funeral in the old Esker Cemetery on the 8th December, 1959 or '60. We attended the funeral Mass in St. Mary's on that Holy Day, and walked behind the hearse to her final resting place. Kitty was a charming lady who worked in the office at Collins Butchers, and lived on Main Street with her sister Nellie. I still have very fond memories of her.

During the burial, it began to snow leaving the earth completely covered in a white blanket. While I remember the snow being heavy, it probably wasn't too bad, as after the burial my mother took the three of us into Dublin on the bus, to see Santa! My main concern on the day was that my mother wouldn't stop talking to people after the funeral, and it would be too late to go on our annual trip.

We went to 'Dublin' back then as opposed to 'Town' these days! If you lived in Palmerstown or Chapelizod, you went to 'Town', but if you lived out in the country in Lucan, it was 'Dublin' you were heading for.

Still, every 8th December, I remember Kitty!

Sadness
A very sad Christmas happened around the end of the 1950s, when Martin Kilduff, a little boy of about 5 or 6 years of age passed away on Christmas Eve. I must have made my First Communion at the time, as I was at the 8am Mass with my mother, on Christmas morning when we heard the news. Back then, if receiving Holy Communion, it would only be at the early Masses, as a three-hour fast was still in force. Previous to that, it had been a fast from midnight.

Martin was in my brother's class in the Convent School – Sr. Michael their teacher spoke for years after about her four Martins – Martin Kilduff, my brother Martin, and two others.

I remember my mother sympathising with Mrs. Kilduff who was at that 8am Mass on Christmas morning. The grieving mother's reply was something to the effect that they were grateful for having him for so long – he had been delicate from birth. It must have been a dreadful Christmas for that family.

Strange things happen. I was visiting a class in St. Thomas' School, Esker, just over a year ago for their local history day, when a little boy related to me the story of his 'uncle' who had died at Christmas, and how they still had his Christmas presents - never unwrapped.

It turned out that this child was a grand nephew of the little boy I remembered, and his name was also Martin.

That Turkey
My father worked for Cromer's Builders, and every Christmas, William Cromer delivered a turkey for the family. This great big bird hung on the back of the door for a couple of days, and more than once he gave a bit of a flutter, sending us kids running for cover – thinking he wasn't really dead!!!

It happened one Christmas when I was in Secondary School, that my mother got a very bad dose of flu. She must have been really sick, as she didn't easily take to the bed. I can remember wondering was she so bad that we might lose her!

My father was far from domesticated, but he did his best. The turkey had been delivered as usual, and on Christmas Eve, it had to be prepared for the oven – that meant cleaning it out and removing the lower legs and head etc. There was a trick to removing the legs – they had to be pulled so as the sinews would come out of the thigh, as opposed to cutting the legs off leaving part of the sinews, which would toughen the meat.

In fairness to the man, he got it cleaned out, but he couldn't figure out how to deal with the legs. I still have this vision of him carrying the turkey into the bedroom to my sick mother, asking her to help him with the legs! She summoned all her strength and told him to jam the feet in the door and pull hard. Problem solved! We held the door on the turkey's legs and Dad pulled hard and the job was done.

Christmas Masses
Joe Dignam's three taxis ferried the elderly people from Dodsboro and the outlying areas to and from Mass on Christmas Day and indeed every Sunday. The younger people and children all walked the journey. Buses went nowhere near Dodsboro or the Finnstown area back then.

On Christmas Day, priests were allowed say three Masses. Fr. Brennan and Fr. Loughran were the two Lucan priests. Mass was in Latin, and if you got the old Fr. Brennan, you had to really pay attention, as he said his three Christmas Day Masses one after the other, and it was very easy to get caught for all three Masses.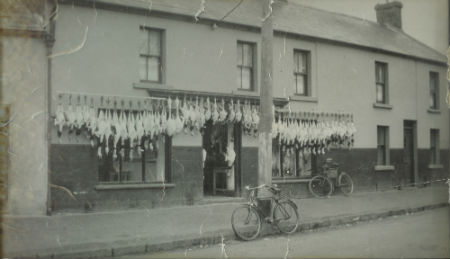 The Village
The Lucan of my childhood was very different than today.

They were pre-EEC days, and we could do a lot of things then that are simply not allowed any more. The above picture testifies to that – Collin's Butchers at Christmas 1946, with the plucked turkeys hanging outside. Giltraps at the other end of the village would have had a similar display. Though already plucked, these birds would still have to be cleaned out.

For most of the year, Cormack's sold and repaired bicycles and radios, but at Christmas time their shop window turned into a mini winter wonderland with 'snow' and decorations, and lots of dinky cars and toys on display. Keady's on The Mall also made a big effort, and Saunder's Newsagents had every Annual under the sun, so we had a great opportunity to study what we might put on our list for Santa! We waited anxiously on Christmas Eve listing for him to read our names out on the radio, and reassure us that he was on the way.

The Toys
Some boys got cowboy suits, and guns and holsters with 'diamonds' in them. Others got Indian suits, with bows and arrows. A rifle was the in thing before the space-age guns arrived. The girls got things like dolls in frilly dresses with straw hats, and perhaps a dolls pram. A compendium of games was a very welcome gift for older children. The books on the go were Bunty and Judy, Beano, Dandy and Topper. When you had moved beyond the annuals, there was the What Katy Did series, and remember the Biggles Books!

School Holidays
The day of the school holidays was also looked forward to, not just because of the break from school, but because the Nuns gave us a Christmas Party every year. Lots of sticky buns and sweets plus if you only missed one day from school you got an extra sticky bun. If you missed no days, it was two extra buns. I estimate there were close on 400 pupils in the Convent Primary School at the time – an awful lot of buns!!!

Winter Weather
The weather also provides seasonal memories. One is of the buses stranded in the Village during heavy snow and very icy roads. Often times, villagers brought cups of tea and sandwiches out to the drivers and conductors as they waited for assistance to get up the hill out of Lucan.

Something you'll never see again is a milk lorry carrying crates of milk which when frozen resembled candles sticking up out of glass bottles, popping their foil caps. It was actually the cream at the top that was frozen – EEC got rid of the cream in the milk since then! Dublin Dairies and HB were the providers of the day.

A Christmas Tree
The Christmas Tree at Fulfils was a sight to behold – Fulfils was what we called the garage close to the Demesne entrance, where Maxol is now. Every year the big tree was decorated with lots of colourful lights, and it was part of Christmas to walk up to see that tree.

And so rest the memories until this time again next year, please God.
Mary Mulhall